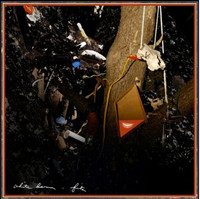 This one should come as no surprise: it's another genre-bending and altogether righteous rock and roll band out of Austin. Seriously, what are they putting in the water there? And why does it take so long for the rest of the world to get hip to these acts?
White Denim, a dynamic three-piece that are equal parts garage blues, acid jazz and straight-up, riff-driven rock (Amogst so many other variations) provide listeners with an exciting barrage of sounds on Fits, their latest. Classifying these dudes is useless; what's more, trying to figure out how just three dudes can give to the sonic equivalent of the second coming of Christ is just as fruitless a task. The manner in which they switch tempos, keeping us thoroughly entertained for twelve dynamic tracks.
While each of the tracks on Fits venture into unabashedly eclectic territory, never do the songs meander into bouts of useless noodling, or being weird just for the sake of it. Through the constant tempo changes and random flashes of brilliance, Fits manages to stay quite contained. Only one of the tracks ventures into the four-minute territory. The acid-induced wail of "All Consolation" turns from ambient pastoral-rock to a fierce, Jane's Addiction-esque breakdown with nothing more than a few smacks of a cowbell. Sound a little messed? That's only the beginning. Sound a little intriguing? You'll find yourself repeating songs immediately after listening to them, in an effort to find crevices or tempo changes you might have missed. And that's all part of the fun on Fits.
By Joshua Kloke
[Rating: 3.5/5]