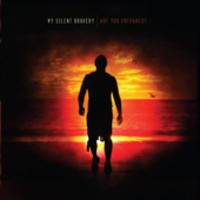 Formerly known as the Matt Shwachman Band, this group decided to get a complete makeover.   The new image is now My Silent Bravery and the sound is more appealing than ever.   New name and fresh start for Shwachman & company as they have you asking yourself Are You Prepared?   I hope that you are prepared for MSB's brand new project because they are dishing out some serious noise.  
Matt S. handles all lead vocals and acoustic parts on this new record along with being an excellent songwriter.   Andrew Gallagher is another key force here who contributes all keys, bass, electric guitar and background vocals.   Gallagher also took on duties as co-songwriter, producer, recording and mixing of this disc.   You also hear Hugh Allen on bass, Dana Bonardi on drums and Mike Fiore on guitar.   Allen, Bonardi, Fiore and Shwachman complete the line-up as the live band.
I have to say after experiencing Are You Prepared? that it is safe to say that My Silent Bravery are off to one heck of start.   The songs exhibit a very cool flow overall that is musically & vocally appetizing throughout.   The whole picture is extremely flavorful filled with a bright, full sound.   With ear-pleasing audio effects and an enticing display of sound, MSB will appeal to all your senses.   What an awesome vibe this band conveys as I listen, which is full of feeling, vibrancy and richness.   They play to the tune of an alternative/pop/rock feel but with added flair for further excitement.  
I personally loved the funky bass lines on the tracks "Comfort of the Sideline" and "Faith" and My Silent Bravery end it all with a hip 'n' happening, lively track on "As Above, So Below".   The title track gives off a much stronger rock presence that I was digging in a huge way.   Here are some think-worthy lyrics from the song: "Are you prepared to fight for it?"   & "Will you duck and run and hide?"   I say hell yes to the first line and hell no to the latter…What do you say?
When it's all said and done, I have to say that I am highly impressed with this band and their approach to music.   With over 150 shows over the past 18 months and coming off a sold out performance at their CD release party in Boston on March 27, there is much…much more to come.   The hard work is evident and these 12 recordings are a true testament to that fact.   So…Get Ready and Get Prepared because MSB are here and here to stay!   For more on My Silent Bravery and their new release, SKOPE out www.myspace.com/mysilentbravery.  
By Jimmy Rae
[Rating: 4/5]