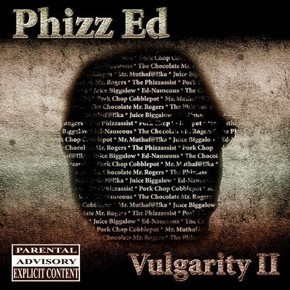 It has been a few weeks since we have had a hip hop artist here so I am happy to say I have found the perfect guest to break that trend. My next guest is coming straight out of Ohio by the catchy name of, Phizz Ed. Phizz Ed is controversial, confident, confrontational, and alittle bit crazy. He has just released his new album, 'Vulgarity II' and if you are looking for something new and real Phizz Ed got you. Join us as we talk about Ohio, hip hop beef, the album, and much more!
Stoli: Where are we speaking from and what are you up to today?
Phizz Ed: Live and direct from cum blow us Ohio, ha ha just joking O-H and a dime, the capital city, carbon city, The C-O,   aka Columbus, Ohio. I'm chillen like a deep freezer checking out music on line.
Stoli: I love your name, Phizz Ed. How did you come up with that alias and how it relates to you as an emcee?
Phizz Ed: It's weird because I came up with that name when I was 8yrs old and it stuck. It started as the phizzisist like I'm some crazy science professor in a lab coming up with crazy mixtures of hip hop. I could picture myself in a long white lab coat and thick wire rim glasses. Yea that's the real Phizz Ed.
Stoli: How is the hip hop scene in Ohio and who do you respect that has come out of your state?
Phizz Ed: Hip hop in da C-O, Columbus Ohio is different from any place on earth. MC battles around here were a lot different than the ones seen in 8Mile. There were times when a mc would bring his whole family to a battle for support. Instead of battling him I would battle his family, or when it was his turn to rap I would start a conversation with some one on the side lines. These types of antics were typical of the C-O hip hop scene. You had to have lyrics; period point blank, if you sucked you would be called out. I miss those days. One of my favorite mc's is a personal friend of mine, Copywrite. Ultrasound the rebirth is his new joint and it goes way hard. My crew The Pheonix Foundation is a culmination of some of the best mc's from Chicago IL, Nashville Tn, and Columbus Oh. My first album was produced by the late great DJ Przm, one of the most talented individuals I've ever meet. I love and respect all my brothers.
'Vulgarity II' Online Promo:
Stoli: Your lyrical content is creative & diverse. How do you come up with what you want to talk about on a song?
Phizz Ed: I love to shock and amaze my listeners. I feel like if no one gets offended then I ain't reppin right. I like to educate you and curse you out all at the same time. My album is ruff and edgy the all while educating the listener from my point of view, I love it.
Stoli: How much of your day do you spend working on new music and rehearasing?
Phizz Ed: Not a whole lot of time is spent on new stuff, I like to write in the studio so when I here the beat it tells me what to write to it. I do write out side the studio but I really like my lyrics to be as fresh as possible. As fare as rehearsing I freestyle to myself in the mirror every morning, keeps me on point.
Stoli: How are you feeling about the release of 'Vulgarity II?'
Phizz Ed: Vulgarity 2 is great, this album turned out exactly how I wanted it to…dope. The lyrics are dope, the beats are dope and the subject matter is timeless.
Stoli: If you were to select two singles that readers should download now off the album what would they be?
Phizz Ed: The first must have for all your subscribers is "F-I-R-E" it features me, Lord Hakim and Doc Giggz spittin that heat over an ill jazz sample that completely flips on to some Old School Goldern Era rock da party type flavor for the hook- you gotta hear it. The second is "I Dun Seen", where I go about exposing and invalidating some of the inaccurate stereo types placed on Black America as a whole. I think both of these songs do a good job introducing me.
Stoli: I love your image and style. When can we expect a video to offer a visual of Phizz Ed?
Phizz Ed: I have 2 videos out now on YouTube for Vulgarity 2: Break (2009) and UnROLY 04 (pronounced un-rul-ee). You can check'm out at www.youtube.com/user/phizzedmusic or on my website www.phizzedmusic.com
Stoli: How close to home did the track "I only Know Half" come in your personal life?
Phizz Ed: I Only Know Half was actually about a girl a friend of mine was with. So it was close to home but it was not me personally.
Stoli: You worked with various producers on this album. What do you loom for in a beat that makes you want to rhyme over it?
Phizz Ed: It's hard to say what I loom for in a beat because I don't know. If a beat is dope its dope that's all there is to it. If I feel a beat I know it right off within 2 seconds of hearing it
Stoli: What are your thoughts on hip hop beef and are you one to back down from a lyrical battle?
Phizz Ed: I hear about hip hop beefs all the time, its good to know that the spirit of hip hop still lives, with that said most mc's out today are horrible on the mic. Some can't even speak English (Plies); some of these negros are an embarrassment to the culture of hip hop. I love and respect the art form commonly called Hip Hop more than most. I love to battle and I can't be beat so all interested mc's get at cha boy!
Stoli: How do you feel that the recession has changed what emcees are talking about in their rhymes these days?
Phizz Ed: I wish rappers would be more like rock stars or at least old school rappers. What I mean is, a rock artist always talks about social issues and political issues. There was a time, back in the day when rap did that but not so much anymore. Most rappers have nothing intelligent to say. It is sad because I have to listen to rock music for inspiration. I put on some KINGS OF LEON and look out the window and say what needs to change today, everything.
Stoli: Where can readers pick up the new album and what is next for Phizz Ed?
Phizz Ed: iTunes, cdbaby, Amazon, anywhere music is sold on the net, thanks to Lord Hakim I'm everywhere. Don't for get to hit up www.phizzedmusic.com and hit me on twitter @phizzed. My next project is called THE BIG D. I'll let you draw your own conclusions.