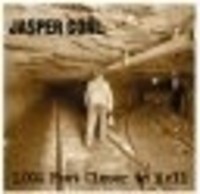 Jasper Coal may be based in Birmingham, AL but their hearts belong to Ireland. Breaking out the tin whistle and the bodrhran, these guys wear their ethnic pride on their green sleeves. Their influences are obvious at first blush. Jasper Coal is heavily indebted to groups like The Pouges, Dropkick Murphys and even the more traditional Chieftains. There are plenty of boot stomping drinking songs with punk rock peppered throughout their second album, but there are plenty of soft folk ballads to balance the mix.
 
The indie nature of the album is obvious on the recording quality, which lacks the polish of a high dollar studio production. However the rough edges add an earthy flavor that nicely compliments the sort of blue-collar aesthetic their songs extol. The vocals sometimes leave a little to be desired. On tracks such as "Twa Corbies" attempts at harmonize can be wince worthy and the backing vocals occasionally waver off key, but such shortcomings do little to dampen the overall album.
 
Jasper Coal truly shines in their song craft. The guys prove themselves excellent musicians with richly layered tracks that blend banjos and bouzoukis with ease and energy. The songs often provide provocative contradictions when juxtaposed as with "The Merry Plowboy" and "Paddy's Lamentation. "Plowboy" is an up-beat pub-rocker that romanticizes Ireland's fight for independence with lyrics like, "We're all off to Dublin in the green and the green, where the helmets glisten in the sun, where the bayonets flash and the rifles crash, to the echo of the Thompson gun". Yet only two songs later "Lamentation" offers a somber indictment of war with such lyrics as, "Here's you boys and now take my advice, to Americae I'll haves ya not be going, there is nothing here but war, where the murdering cannons roar, and I wish that I was home in dear old Dublin". The same sort of vivid imagery is used each time for exact opposite purposes producing a portrait of simultaneous patriotism and alienation.
 
There's a lot of promise on 1000 Feet Closet to Hell and there's no doubt of the band's talent. Jasper Coal's real challenge is to distinguish themselves from their influences. It would be easy to disregard them as merely also-rans of The Pogues and Dropkick Murphys. But if they can maintain the knack for writing songs they've demonstrated on this album, their future should be a bright one.
By: David Feltman
[Rating: 3/5]