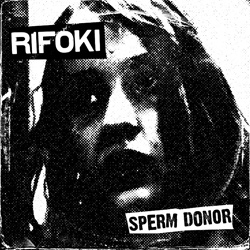 Before the two became renowned for their superstar status in the world of DJs, Steve Aoki and Bobby Rifo of The Bloody Beetroots were your typical hardcore kids. Both have come together to form Rifoki, a new hardcore project that is void of any hint that the two men behind the music are either one part of an Italian electronica duo, or the brother of a very popular actress/model.
From start to finish, the very short EP is five minutes of ferocious screaming backed by pure anger in the form of guitar riffs and menacing drums, and a quick look at the hardcore rockers both Aoki and Rifo can finally be.
The title track "Sperm Donor" sets the stage for the rest of EP, with Aoki letting loose a very brutal voice he doesn't usually get to let out, screaming "Shut the f**k up!" By the end of it all, its a bit disorienting.
There's not much else to make note of unfortunately. The Sperm Donor EP climaxes as quickly as it begun, with all the songs sort of blending together. Each song is a little over a minute long, and "Weinerschnitzel Pt. 1", which clocks in at 19 seconds of nothing really except an odd "introduction" to the Dim Mak label which Aoki owns, makes you wonder the integrity of the project. Was Rifoki just a way for Aoki and Rifo to prove to the world that they could actually pick up a guitar, scream into a microphone, and bang some drums? Thats not to say that this was a terrible idea or complete filler though.
Like most hardcore/thrash bands who sound like they could beat you to a bloody pulp in seconds, its the live energy of their show that truly reveals what the band cannot translate as well onto record. Rifoki make their live debut in April, and by then it may be easier to grasp the project's worth. Otherwise, these five minutes don't leave a huge lasting impression.
[Rating: 3/5]