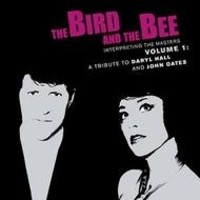 It wasn't too long ago that the 80s pop duo Hall and Oates were considered to be as hip as a Hallmark channel 24 hour marathon of Murder, She Wrote.
Times have changed though as the pop artists have seen a recent semi-resurgence in both critical circles (they were nominated for a Grammy this past year) and indie credibility (the excellent movie 500 Days of Summer featured their hit "You Make My Dreams Come True" in a fantastic sequence.)
Thus, conventional wisdom says it is inevitable that someone would do a cover album of some of Hall and Oates back catalogue soon. Well, here you have it. The indie pop band The Bird and the Bee have just released the boldly titled Interpreting the Masters: A Tribute to Darryl Hall and John Oates.
Probably what is the most interesting thing about this intriguing nine song collection is that The Bird and the Bee, which is basically singer Inara George and instrumentalist Greg Kurstin, can't be accused for jumping on the bandwagon. In fact, the duo here shows that they have a profound affection for Hall and Oates' songs and their versions are fine compliments to the 80s songwriters.
Proof of that is evident from the get go with the sole original song "Heard It On the Radio." The track's infectious chorus sounds like it was written by a couple of pop songwriting superstars. Also, it fits nicely in with the tone of the tribute cd because of its lyrics about the power of music and the radio.
As for the sound of the cd, all nine songs here feature The Bird and the Bee's signature sound of George's intimate vocals and Kurstin's modern electronic sounds. Thus, you hear numerous interesting keyboard blips and electronic flourishes alongside George's fine singing on some of pop's biggest songs such as "Sara Smile," "Maneater," and "One on One."
Still, the main drawback here is that there is something missing–soul. One of the most underrated aspects to Hall and Oates was that their best stuff revealed their soul and R&B background. The Bird and the Bee's versions of 70s era tracks such as "Rich Girl" and "She's Gone" sound nice but they can't compare to the originals.
In the end though, that may be the point. George and Kurstin probably knew this so they just decided to give their fans an alternative mix of well-known pop songs they loved while also bringing attention to the original musicians behind the music.
While there is nothing wrong with that, this tribute album would have been a bit more successful if it was longer (it clocks in at barely 30 minutes) and it included some more lesser known Hall and Oates originals.
Author – Todd Sikorski
[Rating: 3/5]