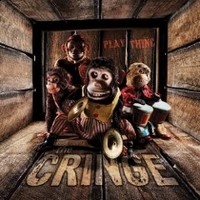 Right away from the front cover of this CD you see a band of creepy-looking monkey dolls that will just freak you out.   I already sense from the art work that this group is going to play against the grain and who knows may even make you cringe in the process.   One thing is for certain and that is that The Cringe perform to the tune of no-nonsense monkey business and Play Thing is no laughing matter.
The Cringe is based in NYC and their power-packed sound definitely lives up to stature of the Big Apple.   With plenty of musical background, all four members bring an overload of experience to this project.   The lineup consists of: John Cusimano as lead singer/songwriter & producer, James Rotondi (ex-Air, Mr. Bungle) on lead guitar, Jonny Matias (ex-Crash Moderns) on bass and Shawn Pelton (SNL, Bruce Springsteen) bangin' on the drums.   Dating back to 2004, The Cringe have recorded two previous albums called Scratch The Surface and Tipping Point.   Play Thing is the third installment for this NYC bunch and it may possibly be their best work to date.   This record will more than live up to the hype of being a high quality, well-produced/performed/written album.  
The Cringe come with a power rock sound that includes elements of punk, pop and hard rock.   There are revved up moments of angst and aggression that are aimed at our society and its beliefs & principles.   I'm hearing definite pokes toward universal conformity as The Cringe take jabs left and right at our hierarchy.   They bring you socially conscious music to really listen close to and hear the truth.
As soon as you push play, you hear raw energy that is locked & loaded and ready to go on "Ride".   This adrenaline-rushed track is some ride!   What I truly enjoyed about this record were the rocked out performances and the incredible lyrics.   There were also some wonderful harmonies and catchy melodies that grab your attention right away.   John Cusimano's songwriting ability shines through loud and clear on Play Thing.   Cusimano really blew me away just by his words he sang out.   A great message is included on track three, "In The End (We Are All The Same)", where John expresses in so many words that no matter what happens down here on Earth, we are all the same in the end.   He even dares people to think about this concept when he sings the line: "Food for thought; it's all in your brain".   Song five, "No Control", really makes you stop and think due to the heavy emphasis on the words "No Control".   He vocalizes about the "pills you take" and "the words you bend" that there is no self control these days.   In a sense, Cusimano is calling us out as a PEOPLE, which I think is so direct & powerful.   One other song that offers phenomenal lyrics was "Start Again" that gets very personal.   John sings that "I hope that it's not too late" and that "it's fear that brings you down".   He's saying it's never too late to start again, but you can't be afraid to try.   In the end, you always have to hang on to hope no matter what.   The Cringe turn it up a notch on "Friends & Family" with a heavy, in-your-face jam and end all matters on a rock solid note with "Give and Take".  
I am now a fan of this band as they have a lot to say and sound great doing it.   Don't hesitate to hear this group for yourself because they offer an amazing set.   If nothing else, these musicians are helping bring awareness to public issues and problems that face US each and every day.   For more on this talented crew from New York and their meaningful new release, Play Thing, SKOPE out www.thecringe.com.  
By Jimmy Rae
[Rating: 4.5/5]