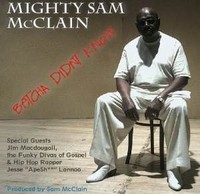 Sam McClain has led a storied career. At age thirteen he ran away from his abusive stepfather and joined "Little Melvin" Underwood, and this lead through a life with lots of ups and downs (from concerts around the world to selling plasma and living on a park bench) that just led credibility to Sam's powerful voice.
Now on his own independent label (Mighty Music) and under self-management, Sam puts out records that are entirely his own vision. In his latest project of thirteen self-penned songs Betcha Didn't Know Sam's mixture of natural sounding     Funk, Soul, Jazz, Gospel, and even Hip-Hop makes an eclectic blend genres into a great album that makes you bob your head and tap your toes.
"Things Ain't What They Used To Be": Certainly a great commentary on the first decade of the 21st century.   We even get to see hip-hop return to its roots with Jesse "Apeshit" Lannoo spitting a quotable 16 bars.
"Just Wanna Be": if you're looking for a song to sing your daughter, and want to be in the run for a "Father of the Year" mug to show proudly off at the office, here's your song.
"Hold On to Your Dreams": Even looking past its heavy religious message, it's sure to pick you up when you're down.
Shawn Alexander Roy
[Rating: 4/5]