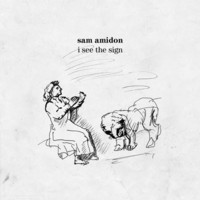 On April 20th, Sam Amidon's forth solo effort I See the Sign is released on Iceland-based Bedroom Community. Dealing with themes of redemption and featuring religious themes, this modern day Nick Drake's album is bound to leave you feeling moved.  
         
It's non-polished "dirty sound" with its sweeping orchestration leaves you breathless as Shahzad Ismaily's haunting vocals on   covers of gospel singer Bessie Jones "Way Go Willy," "Johanna The Row-di" and Amidon original "Red" transport you worlds away.
         
This album brings new life to other public domain treasures such as, the beautiful story of love during wartime in "Pretty Fair Damsel"   and "Climbing High Mountains" with its inspirational lyrics: "Bearing my burdens, trying to get home/ having hard trials, trying to get home/ my way sometimes weary, trying to get home/ climbing high mountains, trying to get home." Sam Amidon also fits in a cover of "Relief" by R. Kelly done à  la Ben Folds' cover of Dr. Dre's immortal classic "Bitches Ain't Shit."
         
Every song on I See the Sign is a gem, and will make you feel Sam's pain that he expresses flawlessly in his voice. Some might be annoyed by the repetition of lyrics in traditional songs though. I guess like the song goes, "You Better Mind"
"I See the Sign"- Even with references to the fruit of repentance, and the Apocalypse, this song is steeped in biblical imagery and can be appreciated by the faithful and the faithless.  
"How Come that Blood"- Mixing traditional vocals, Moog Synthesisers and John Cage-esque finger piano this song has to be one of the most accessible songs on here.
"Way Go Lily" -This sounds like a lost Nick Drake song that was left off "Bryter Layter".
With its orchestral background juxtaposed with a simple guitar riff this song is impossible to not revisit.
Shawn Alexander Roy
[Rating: 4/5]