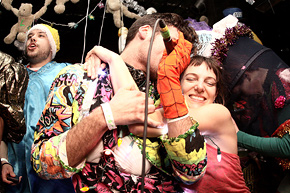 Over the weekend, The Terror Pigeon Dance Revolt! made a colorful return to Florida at the Crowbar in Tampa that brought together an entire room of strangers for an unforgettable dance frenzy!
Experiencing a Terror Pigeon Dance Revolt! show is like stepping through a portal leading to a trippy, multicolored universe with poppy dance tunes and the weirdest dancing you'll ever see. Joining you there are superheroes, snowmen, teddy bears, elves, Santa Claus, and even Tigger from Winnie The Pooh. You could say its all the fun and games of ecstasy, without the after-effects.
Following a twangy set by Sarasota, Florida's The Equines who had their own batch of surprise guests("Flavor Flav" on drums, a werewolf on xylophone, and Jason from Friday The 13th on bass), the Pigeons completely transformed the tiny Tampa bar. Christmas lights were strewn all around, and a huge quilt now hung in front of a set of steps, which almost acted like a barrier between the Terror Pigeon-world and the regular world.
After a short but sweet set by Jesse Cooper Levy, the band tossed out a bunch of odd outfits onto the floor, telling everyone to "dress up". Probably the most popular though were the the barrel-like sacks which had been decorated to look like monsters. From there, the audience was no longer a pack of strangers. Once you slip on those costumes, you become connected to one another to take part in one of the wackiest dance parties ever.
Catchy and easy to sing-along to songs like "In Your Face Suckiness!!" and "My Favorite Hair" fit the energetic, motionless set, giving more than enough chances to belt out things such as "We're gonna make it through all the shit!", with lead-Pigeons Neil, Dan, and Jesse often handing off their mics to the crowd. Even after the "final song" of the night, "Ride Friendship" and a giant group hug, the crowd shook and cried for more. After two more songs, both Terror Pigeon Dance Revolt! and the Tampa crowd had had enough.
The Terror Pigeon Dance Revolt! are one of the few bands out there who go that extra mile to put on a great live performance. After seeing them, you will wonder how you could've ever stood in one spot, while a band played on stage for their 45-minute set. At a Terror Pigeon show, you're not just a fan who bought a ticket to the show; you are the show.
Look out for our interview with Neil, Jesse, and Dan of Terror Pigeon Dance Revolt!