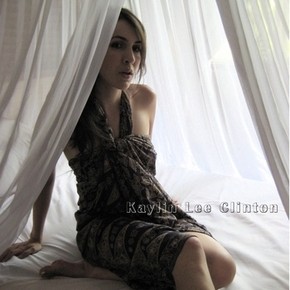 Welcome to another exciting week here at 'Skoped Out.' This week we have a female singer/songwriter by the name of Kaylin Lee Clinton. Kaylin resides in NYC and as far as I am concerned she is next up. If you are having a rough day just head on over to Kaylin's Bandcamp page and listen to her new EP and you will be inspired. Kaylin has the voice, the image, and the life experiences that make her a musician to watch. Join us as Kaylin tells us everything from how she got started, her acting ambitions, how she keeps herself healthy, and much more!
Stoli: Where are we speaking from today and what do you have going on today?
                 
Kaylin Lee Clinton: I'm in NYC, I am performing an acoustic set tonight at Recoup Lounge.   And my one of my best friends just became a mom, so I'll be sending my voice out to her all the way in Georgia!
Stoli: What are your favorite venues to go to in NYC to listen to live music?
                 
Kaylin Lee Clinton: I love crowding into Rockwood, or walking all the way out to Rose Live Music. I also love hearing great jazz and international imports at Birdland's.
Stoli: You studied acting at NYU Tisch. Do you still pursue acting roles or are you 100% music focused?
                 
Kaylin Lee Clinton:  I work with an awesome company, the New Stage Theatre Co., that just performed a show at La MaMa, and I am currently working on a role and creating original music for Global Theatre Ensemble's upcoming "The Disappearance." When I am acting, I am bringing to life the truth, pain, and humor of another person. My music has been a much riskier venture, because I'm giving my own self, un-masked!
Stoli: What acting skills can you transcend into your music performance whether live and or in the studio?
                 
Kaylin Lee Clinton: I know that the real stuff comes when I'm working from my heart, not my head.   I don't worry about perfection: I let the dog eat my homework, and I just have a great time.  
Stoli: What made you decide that you wanted to pursue music and at what inspired you to begin writing & performing your own music?
               
Kaylin Lee Clinton: I actually started writing songs in highschool, singing them only in my head and hearing the full orchestrations.   I often think aloud in song.   But for some reason, I was keeping it all a secret, until I realized, "This is what I do.   Why aren't I doing it?"
Stoli: You are in great shape and always look perfect in your press shots. What do you do to keep yourself healthy and looking good?
                 
Kaylin Lee Clinton: Haha, thank you.   I'm a vegetarian/green tea kinda gal with an unfettered passion for chocolate.   The pics I'm using right now were actually taken for fun by a friend on a little no-frills camera while I was studying in Bali.   The light and energy of that place and its people resonated so deeply for me, I think all you're seeing in those pictures is pure contentment!   I am currently working on my next album, inspired by Balinese music and my experiences there.
Stoli: You lost your brother when he was only 25. How did you deal with his loss and how did music help you make peace?
                 
Kaylin Lee Clinton: He was six weeks away from his 25th birthday, and I was 22.   It was the hardest thing I've lived through; we were really really close.   But I couldn't look at his young life as being incomplete: I had to tell myself that he had achieved everything he came to this Earth to do.   I realized that I hadn't yet, and I was running out of his foot steps to follow in.   I thought, why am I keeping my songs secret?   I simply don't have time for fear.   I was very fortunate to meet the amazing producer I work with, Steve Wallace, who would watch me play the air-everything, and helped me get these songs out of my head.     Now that I'm a full year older than my brother got to be, I finally feel ready to perform them.   And I know he's smiling with me when I do.
Stoli: I love your song, "You Who." What inspired you to write that song and is that based on your real life?
               
Kaylin Lee Clinton: Thank you!   The song's about taking risks: I love it when people are out and honest and messy-as-heck, rather than hidden neatly away.   But what's funny is, it's actually a little bravery reminder to myself: I'm the one who gets shy, and can't speak, and hides! But "I-hi crawled here" just didn't have the same ring to it.  
Stoli: What was the last CD you bought and when?
                 
Kaylin Lee Clinton: Physical CD in plastic and cellophane?   Belly Dance Superstars, in 2002.   Love it.   I downloaded Ingrid Michaelson's latest, some lovely Lenka and some awesome Adele.   I also recently downloaded a bunch of Balinese gamelan and kecak music as inspiration for the next album I'm creating.
Stoli: What independent artists are you listening to right now and what do you feel about Lady Gaga?
                 
Kaylin Lee Clinton: My recent discoveries I saw playing live at Rockwood and I can't get enough of them now: the Rachel Platten band, and the Spring Standards.   Lady Gaga? My introduction to her was her live performance of "Paparazzi" at the VMAs, and my first thought was "Wow, this gal can sing." Then I was blown away by the hedonistic, downtown-theatre artistry of her performance.   She's fierce.
Stoli: Where can readers purchase music from you online?
                 
Kaylin Lee Clinton: Currently I have five of my songs up for sale online on bandcamp's site, http://kaylinleeclinton.bandcamp.com. I'm planning to release the whole album into the online wilderness this summer.
Stoli: What is coming up for Kaylin Lee Clinton & where can readers get more from you?    
Kaylin Lee Clinton: My next full band gig is at Fat Baby's in NYC on March 18th at 9pm. I'm about to film a music video for my song, Painted Road, and I'm working on the album release. Become my fan on facebook, my friend on myspace, and subscribe on youtube!
www.myspace.com/kaylinleeclinton
www.facebook.com/pages/Kaylin-Lee-Clinton-music/313575910972?ref=mf
http://kaylinleeclinton.bandcamp.com