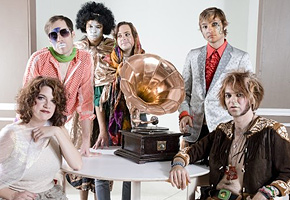 While taking over clubs in Europe with their artsy-fartsy performances, of Montreal filmed a tour documentary that will feature the band's wacky stage antics on-stage and what happens off-stage.
Filmed by the most unlikely candidate for such a thing, English professor Spenser Simrill, the documentary titled "Family Nouveau" will make its world premiere at the Chicago International Movies and Music Festival on March 5.
The film was taken not too long after the band's colorful Skeletal Lamping U.S. tour which featured lead crazy Kevin Barnes prancing around in gold hot pants; filmed in in late January/early February. If you were able to catch that tour, well, you actually shouldn't expect to see the exact stuff. of Montreal seem to never stop cooking up new ideas for their live shows.
"Family Nouveau" will be showing at the Heaven Gallery at 8PM, and is expected to be 45 minutes of pure bizarreness. It'll be showing alongside a film titled "The Cat Piano" which is narrated by Nick Cave. Tickets to the event can be bought here.