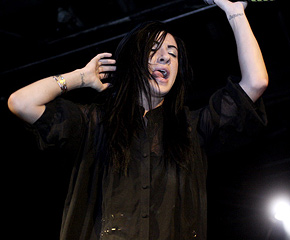 Last Thursday night marked two special rap-related events; 45-year old Dr. Dre's birthday, and the night the equally filthy-mouthed Philly MC Amanda Blank brought her slick rhymes to Orlando's Club Firestone. Photos and review by Norrel Blair.

"I hate when people do that!" shouts an agitated Amanda Blank, referring to the throngs of people sitting in the back of the popular Orlando nightclub, rather than securing their spot up front against the barricade. Little did Blank know that the image would be drastically different and in her favor when she strutted on stage a few hours later.
Although the weather in Florida hasn't been so very warm and sunny as Blank would've hoped, the chill didn't stop her throughout the 45-minute set, relentlessly head banging, arm swinging, and leg popping back and forth all over the stage and performing favorites like "Make It Take It" and sensual single "Might Like You Better". Hitting the stage at midnight, Blank graced the stage in an entirely black domintarix-like outfit, covered in just a night gown and a lace scarf/mask covering her face. The powerful "Something Bigger, Something Better" opened up the night, and at the very first chorus she ripped off the mask, revealing her flawless dance moves and rapid-fire raps that she has come to be known for.
After following up with "DJ" and her Vanity 6 cover of "Make-Up"("This song is for the gays! We love you too!"), Blank slipped off her night gown into a shimmery leotard, that probably allowed for those extra air thrusts. In between songs Blank revealed her true character, by constantly asking "someone take me to Disney World!". She also took time to announce Dr. Dre's birthday and briefly did a self-competition for herself and the Orlando crowd to show off how fast she could rap. If you already her on Spank Rock's "Bump", would you believe that she was able to free-style faster than she did on there?
After almost a full half hour of what most conservative right-wingers would called "shocking" and "innapropiate", Blank slowed things down to end with the hearfelt "A Love Song", which features parts from Santigold's "I'm A Lady". Though the song ends with Amanda Blank announcing "I've got my mind made up", that was not the case as she ran back on stage for a special encore. "I never do this song, but it's Florida!" and then the opening gasps and groans of sex from Miami-based 2 Live Crew's "Me So Horny" blared over the speakers before she performed "Get Um Girl", a song from 2006's Blow Remix EP that samples the similarly titled 2 Live Crew song.
If there was anything that the crowd of people who showed up at Firestone proved, it's that Amanda Blank is surely, if she hasn't already, creating a dedicated fan-base for herself of people who come to see her, and just her.