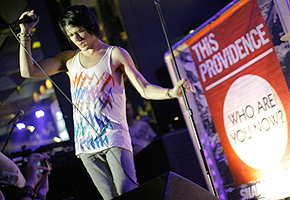 "Appropiately titled "The 'Bout Damn Time Tour", This Providence will be touring across the U.S. in support of their 2009 release "Who Are You Now?". Supporting are The Audition, The Bigger Lights, Anarbor, and Artist Vs. Poet on select dates.

After the release of Seattle rockers' This Providence second album Who Are You Now?, many fans might've been shocked to realize the band never got around to doing a headlining tour. Instead, they went on the road with opening up for other artists such as Hey Monday, Cartel, and The Almost. Interestingly enough, in the interview we did with guitarist Gavin Phillips last year, he mentioned how they would like to do one "hopefully in Spring." Looks like he got what he wanted.
Not only would you expect a headlining tour from a band who recently released their second album, but from a band who puts on such an energetic live show? Lead singer Daniel Young is impossible to keep up with as he is constantly moving from stage to crowd, becoming face first with a wave a of hands and the lenses of point-and-shoot cameras.
The 'Bout Damn Time tour starts March 25th in Portland at the Hawthorne Theater and ends in Salt Lake City on April 28.
Tour dates:
3.25 Hawthorne Theater – Portland, OR*
3.26 The Boardwalk – Orangevale, CA*
3.27 Saratoga Rec Center – Saratoga, CA*
3.29 Chain Reaction – Anaheim, CA*
3.30 Soma – San Diego, CA*
3.31 The Clubhouse – Tempe, AZ*
4.02 White Rabbit – San Antonio, TX*
4.03 The Channel – Houston, TX*
4.05 The Backbooth – Orlando, FL^
4.06 Orpheum – Tampa, FL^
4.07 The Masquerade – Atlanta, GA^
4.08 Rocketown – Nashville, TN^
4.09 The Casbah – Charlotte, NC^
4.10 Club Relevant – Virginia Beach, VA^
4.11 The Ottobar – Baltimore, MD^
4.12 First Unitarian Church – Philadelphia, PA^
4.13 The Middle East – Cambridge, MA^
4.15 Webster Underground – Hartford, CT^
4.16 School Of Rock – South Hackensack, NJ^
4.17 Altar Bar – Pittsburgh, PA^
4.18 The Mod Club – Toronto, ON^
4.20 Musica – Akron, OH^
4.21 iLounge – Pontiac, MI^
4.22 The Mixtape Cafe – Grand Rapids, MI^
4.23 Clearwater Theater – West Dundee, IL^
4.24 The Rave Bar – Milwaukee, WI^
4.25 Triple Rock – Minneapolis, MN^
4.27 Marquis Theatre – Denver, CO^
4.28 Murray Theatre – Salt Lake City, UT^
* w/ The Audition, Anarbor, The Bigger Lights, and Artist Vs. Poet
^ w/ The Audition, Anarbor, and The Bigger Lights