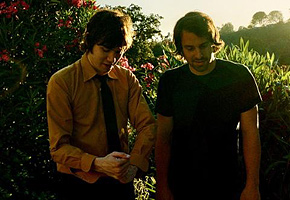 The not-so-recently departed members of Panic! At The Disco finally are ready to awaken from their state of much obscurity and hit the road.
About half a year ago, the Beatles-inspired half of Panic! At The Disco, guitarist Ryan Ross and bassist Jon Walker, who guided the band's music into a totally different direction, announced their departure. After much outcry from the tweenage fan-base all over sites like Buzznet and LiveJournal, the two announced their new band The Young Veins.
It was no surprise when days later they uploaded "Change" to their Myspace and it sounded much like the classic-rock sound heard on Panic's sophomore album Pretty. Odd. Not only that, but it made it quite obvious who was the mastermind behind completely changing Panic's image, music, and removing the "!" from their name.
Remaining members of Panic! At The Disco, Brendon Urie and Spencer Smith, ditched their out-dated fashions, came back with "New Perspective" which was featured on the Jennifer's Body soundtrack, and put the "!" back in the name. Meanwhile, The Young Veins plummeted into obscurity, never uploading another song or even releasing their album Take A Vacation which was only heard at an NYC listening party with Butch Walker. Said listening party was in October, and that was the last we ever officially heard from The Young Veins. Besides announcing bassist Andy Soukal and drummer Nick Murray, and that picture of Ryan Ross with cocaine, things looked pretty damn bleak.
However, it seems they are now ready to poke their heads out and get started on their new career as a band stuck in the 1970s(even though both members in the 80s). In March, the band will start touring opening up for the mind-boggling Foxy Shazam and Bad Rabbits. Hopefully between now and then either Take A Vacation will be released or there will be some new songs. With only one song to remember lyrics to, backlash from fans, and all the false hope surrounding them, these guys aren't making it easy for themselves to climb back to the recognition they once had being with Panic! At The Disco.
If you are unsure of what to expect, give a listen to Pretty. Odd., and in the months coming you won't be too surprised. The album arguably tops Panic's debut album, and hopefully The Young Veins will be able to carry over that recognition.
Tour dates w/ Foxy Shazam and Bad Rabbits:
3/15 — Exit/In — Nashville, TN
3/17 — Las Palmas Racetrack — Las Palmas, TX
3/18 — House of Blues — Houston, TX
3/19 — SXSW — Austin, TX
3/20 — SXSW — Austin, TX
3/21 — White Rabbit — San Antonio, TX
3/22 — Higher Ground — Metarie, LA
3/23 — Juanitas — Little Rock, AR
3/24 — Masquerade — Atlanta, GA
3/26 — Orpheum — St. Petersburg, FL
3/28 — Canal Club Downstairs — Richmond, VA
3/29 — Studio @ Webster Hall — New York, NY
3/30 — Great Scotts — Boston, MA
3/31 — Knitting Factory — Brooklyn, NY
4/01 — Webster Underground — Hartford, CT
4/03 — Petit Camps — Montreal, QC
4/05 — Sneeky Dees — Toronto, ON
4/06 — Mohawk Place — Buffalo, NY
4/07 — The Basement — Columbus, OH
4/08 — Eagle Theater — Detroit, MI
4/09 — Mad Hatter — Cincinnati, OH
4/10 — Beat Kitchen — Chicago, IL
4/11 — The Vault — Minneapolis, MN
4/13 — Marquis Theater — Denver. CO
4/15 — El Corazon Lounge — Seattle, WA
4/16 — The Venue — Vancouver, BC
4/17 — Satyricon — Portland, OR
4/18 — Bottom of the Hill — San Francisco, CA
4/19 — Boardwalk — Sacramento, CA
4/21 — Troubadour — Los Angeles, CA
4/23 — Martini Ranch — Phoenix, AZ
4/26 — Jackpot — Lawrence, KS
4/27 — Off Broadway — St. Louis, MO