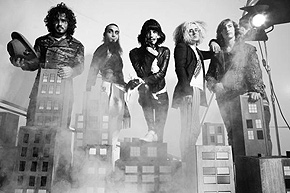 Inimitable rock 'n' soul sextet Foxy Shazam has announced the release of their self-titled Sire Records album on April 13, 2010.   Produced by John Feldmann, Foxy Shazam is the Cincinnati, OH band's major label debut.
To support the album, Foxy Shazam will be taking their good times mobile with a nationwide headlining tour beginning March 15th in Nashville, TN with The Young Veins and Bad Rabbits opening up. Stops in New York, Los Angeles and a stint at the SXSW Music Conference in Austin, TX will give fans a chance to experience their insane live show, which involve lots of movement, keyboard stomping, and eating tons and tons of cigarettes.
If you weren't lucky enough to catch them on their opening slot for The Sounds, make sure that when the roll through your town you pay your tiny fee to see them. That ten or so bucks will go a long way. Foxy Shazam are one of the bands in this era of music who make sure that whatever amount of money you pay to get through those doors is worth it.
Don't let it get into your mind for a second though that their outrageous-ness is only to cover up for shabby music. It's actually almost hard to imagine that Foxy are still unknown to much of the music world. The ring-leader and lead singer of this rambunctious group of men Eric Nally has a voice unlike any we've heard in recent years. His shrieks and witty wordplay against the cheerful sounds happening around him will easily serenade you.