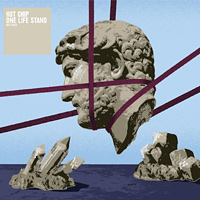 Everyone's favorite British party boys, Hot Chip, have come a long way since their simplistic tunes on their debut record Coming On Strong. Since its release, the band has delivered rich dance-floor anthems dotted with melancholic love songs. On the band's latest release One Life Stand the sentimental side becomes more pronounced.
If 2008's Made In The Dark was a party record, One Life Stand is the opposite. No more laserbeam synths and blasts of electropop. Here we have a different vibe, it's toned down but still retains some of that dance edge we have become accustomed to. Tracks like "One Life Stand" and "Take It In" are more upbeat and typical of Hot Chip's penchant for dance pop flamboyance. It seems the band would rather you take note of what they are saying then demonstrating your bad dance moves.
The six-minute long "Thieves In The Night" opens the album with soothing synths. It unfolds with a groovy sound while the chorus comes in with the tiny-voiced Alexis Taylor shoving aside the sensitive lyrics towards his sweetheart and puts it simple enough: "Happiness is what we all want." From there the mood hovers close to sentimentality with lines like "You are my love line"(Hand Me Down Your Love), "I only want to be your one life stand"(One Life Stand), and "When you hold me, I feel better"(I Feel Better). The lyrics are straight from love letter vocabulary.
The second half of the album is the quietest, but most interesting. The afro-pop influenced "Keep Quiet", "We Have Love", and "Slush" see Hot Chip departing far from their original sound and this could alienate some fans. You might wish you could take "Slush" more seriously, though listening to somebody say 'Humana' over and over again for six-minutes is less than enjoyable.
Though, it's the chill, R&B influenced "Alley Cats"(which the band has been performing live since 2008) that saves the second half of the album from mediocrity. It's one of the most beautiful songs on the record, and arguably the most beautiful song of theirs to date. The guitars sound like trickling summer rain, and the soothing vocals are heart warming. Though there are many other songs in Hot Chip's catalog that are in the same vein as "Alley Cats", this is the one where it seems like the band has finally found the right formula. Was it just not ready to be released Made In The Dark? Whatever happened between 2008 and now, it was enough to path the tune to its perfection.
One Life Stand shows us the softer side of the party-happy Hot Chip. It might not be something we are used to, but it is certainly good enough to hold us and make us wish to linger a little longer in its soft glow.
[Rating: 4/5]


Listen to "One Life Stand"
[audio:http://skopemag.com/audio/Hot Chip – One Life Stand.mp3]