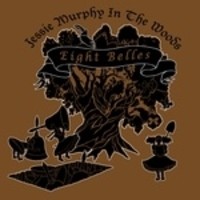 Coming from the same anti-folk scene as Regina Spektor, Jessie Murphy in the Woods is made up of Jessie Murphy, Marcia Wood, and Amy Wood (All NYC public school music teachers) who play oodles of instruments ranging from   a melodica, pan pipes to an auto harp.   Their diverse musical talents (which are mind-blowing enough)   meld into a soothing, genre spanning (funk, chamber and folk)   and skilfully crafted songs that show an amount of skill hardly shown in music.
 
Eight Belles' nine tracks take you on a musical journey that blends seamlessly into a aural orgasm.   With songs about a tragic loss of   virginity, an ode to the American blue collar worker,   and   a eulogy to Eight Belles (a filly who was euthanized at the 2008 Kentucky Derby).   The songs blend layers of unusual instruments with   multi-layered vocals, and have an almost haunting effect to them.   Although, there's an over reliance on a the echo peddle, and some might feel that their sound is too much like another anti-folk hero.   The lyrics more than make up for Eight Bells pitfalls.   They are smart, and refreshing and are laced with vivid imagery and intelligent references.
 
With songs like "God Bless Owen Wilson (He's a lot like Me)" and "When I'm a Horse Again" you'll have a hard time not falling in love with these three powerful ladies from New York who make you fall in love with them from the first note.
Review By: Shawn Alexander Roy
[Rating: 4.5/5]