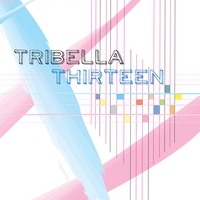 Tribella is coming back strong after the release of their EP, My Guest List, two years ago.   This Austin, Texas-based trio is now offering you thirteen ways to experience their one-of-a-kind sound.   Their style stands out because there is so much being heard on this new album from 80s New Wave/Pop Rock to straight Indie rock to 90s alternative to progressive rock.   You get a little bit of this and a little bit of that from Tribella on Thirteen.
Tribella is made up of Sarah Glynn as lead vocalist & guitarist, Rae Goldring on bass and Dena Gerbrecht as the drummer & back-up singer.   They are referred to as a "Power Pop" trio and I couldn't agree more!   These ladies have definitely got the power as they incorporate that signature pop-rock sound into their music.   Tribella is actually named after "time signatures ("13" is from the track's unusual meter 13/8) and chord structures ("CSUS4" for one of the prominent chords within the progression)."   With Tribella's Thirteen, we get unique phrasing from a band that entices you by way of their extreme creativity.   Their creative blend of songs comes across as highly inviting toward listeners as well as being fiercely dominant from a group-standpoint.  
I'd like to talk about track two, "WTKN", first because it was just so much damn fun to hear!   I experienced a spark of rock that ignited into a full-fledged set of the "Power Pop" girls bringin' their unstoppable energy.   This song literally made me want to get up and move around!   On "My Guest List", you receive a very rad rock sound where you have retro meeting new age.   On the next installment, "Skate Park Instrumental", you just get a very cool vibe with the Austin ladies just jamming out!   Here, it sounds like Tribella is having so much fun just playing their instruments.   The pure joy, love & excitement surrounds these musicians as they play on "Skate Park Instrumental".   The excitement is built up so much so that you just wanna join in and be a part of it yourself!   The record ends with yet another crowd pleaser on "My Guest List LeRoc Remix".   Here, you'll get a dance beat that is in full effect to go along with a future, sonic sound.   This song is pop-infused with a dance groove & beat that is just ridiculously catchy.   This remix is a perfect time to bust out your favorite "Dancing Machine", Robot moves.   In the words of Young MC, "Don't Just Stand There, Bust A Move!"  
After hearing the entire record, I am convinced that Tribella has 13 reasons to celebrate.   The trio is celebrating good music to go along with instrumentation that chimes in perfectly with the overall vibe.   Not to mention, Sarah Glynn's vocals really work well that "Power Pop" Rock sensation that these three women have mastered.   Her voice has a raw & edgy tone at times, but she also comes across as brisk & sassy through her vocal performance.   In the end, Tribella simply offers a cooler than cool feel that is impossible to ignore.   For more on Tribella and their new release, Thirteen, SKOPE out www.myspace.com/tribellatheband.  
By Jimmy Rae (jrae@skopemag.com)
[Rating: 4/5]