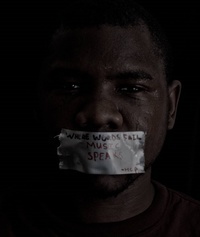 It's a breath of fresh air to hear music that truly conveys a message, one that has been shown by BLK (pronounced "black") Orpheus, with his debut album, "Where Words Fail."
 
BLK Orpheus, real name Omotola Ajibade, is a native Nigerian, who has lived in the Bronx (birthplace to hip hop) and now in Macon, GA. As a junior at Emory University in Atlanta, BLK Orpheus has drawn upon a lot of his own research, including "social ideas and issues of global concern as well as mythology, philosophy, movies, music and history." "I often tell people that I don't want to be the guy who makes the music without having a sense of history," he notes.  
 
In both lyrics in his songs and spoken word pieces, BLK Orpheus opens up to both fun topics, as well as serious ones. In "The People Don't Know," a spoken word piece that describes the political effects of rebel forces in Africa. Stories of mother, father and little brother painted a picture of reality:   "…And if you value your life, then you will do as we say, you will pick up this gun and you will fight today. For babies are born, but men are made, and you my friend, are a man today."
 
"Wipe My Tears" is a dedication song to "anyone that's ever lost someone", which also drops some knowledge — "…and people say it's wrong to pray for the dead, but can we at least pray for what's left?"
 
Serious issues aren't the only themes noted on "Where Words Fail." "Saturday Cartoons" is something we all can identify with from our childhoods: "Back in the day, with nothin' to do, sittin', chillin', watchin' those Saturday cartoons. Hangin' in the streets and chillin' with ya friends. Ya wish those days would never end."  
 
"Where Words Fail" is a refreshing taste of reality that makes us all think about the world around us.
For more on BLK Orpheus, visit www.myspace.com/blkorpheus.
 
Author: Erika Y. Gradecki
[Rating: 4.5/5]