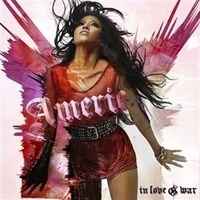 Amerie has truly come a long way since her "Why Don't We Fall In Love" days back in 2002 when she first hit the scene. With "In Love & War", we can definitely see some serious growth in this fourth album, released in late 2009.
 
Popularly known to have love themes in her R&B releases, Amerie has kicked things up a notch in this album. A lot of her songs deal with love and relationships, the typical Amerie formula, but we see a significant difference in "In Love & War". There are quite a few tracks that deal with the difficulties in relationships, such as "Dear John", which describes, in the form of a letter, of a woman moving out, changing the cell digits and moving on — "…You had me at hello, now I gotta say goodbye."
 
"The Flowers" tells a man that he should've appreciated the relationship while it was still in existence, and should not have taken it for granted: "I'm wishin', I wish you woulda gave me the flowers (when I could smell them). And I'm wishin', I wish you woulda held me for hours (when I was around). Now there's nothin' you can do, but to wish I was with you. But it's too little, too late, too late to press rewind (to go back in time)."
 
Now with Island Def Jam (Amerie was previously with Columbia), Amerie has spread her wings into production herself with her own label, Feenix Rising Entertainment, and called upon some heavy hitters for "In Love & War", including Teddy Riley, Eric Hudson and Sean Garrett, as well as Mr. LA Reid on co-production work.  
 
"More Than Love," which was released as a music video on Christmas Eve, featuring Fabolous, questions trust in a relationship: "How can we make it love, when I don't trust you…we need more than love. 'Cause everything is everything when we're just makin' love. But how can we make it love, when I don't trust you, we need more than love, more than love." (If you haven't seen the video, definitely check it out, as there's a bit of a twist at the end.)
 
"In Love & War" has shown a different side of Amerie, one that sets precedence for more albums to come.
For more on Amerie, visit www.amerie.net.
 
Author: Erika Y. Gradecki
[Rating: 4/5]