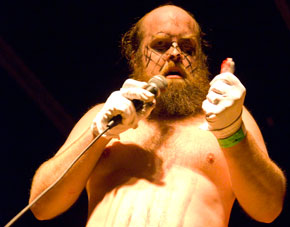 More coverage from Austin…
It is that time of year again folks. The air is crisp, the leaves are dying off in beautiful shades of fall, and some of the most entertaining musicians in the world are migrating to Austin Texas for the 4th Annual Fun Fun Fun Fest.
With all the music festivals in Austin, Fun Fun creators, Graham Williams and James Moody are truly doing something different here. Its the only festival where you can buy really cheap tickets and get 2 days, 4 stages, hip hop, indie rock, metal, comedians, and DJ sets!
This year at the fest, I noticed right away some major changes, and Its sad to say but the media got the short end of this change stick. However, If you're an average music lover with a few extra bones, you can afford the new "PIP" pass or "Homie" pass. This give you complete backstage access and a "booze" bracelet which allows an unlimited amount of free booze to be ingested. The only downside really is pissing off the media. These drunken "homies" make it hard for the workers to do their jobs. Ok, I admit, I'm venting a bit… but honestly, this festival is the most positive thing to happen to Austin each year. So, on to the good shit!!!
The first day was incredible. The weather was story book, my team and I arrived in time to catch a sassy ending to Sugar and Gold's set on the dance stage. These boys are flashy and really like to dress in ladies clothing. The singer kept tossing his gold tight covered bird legs in the air and running in place, encouraging the crowd to "work out" to their average dance band music. Entertainment at its weirdest. After a brief stop at the metal stage to see Young Widows, it was right back to the dance stage for free ice cream and Foot Patrol, an Austin-based foot fetish funk band. Dressed in uniforms you'd find in a state prison, accompanied by dancers, acrobats, and a full horn section, this was quite the spectacle. Later on in the day I saw the singer walking around backstage, and I was shocked to see that after watching his full set, I hadn't noticed he was completely blind. Nothing can stop the funk, and songs about feet!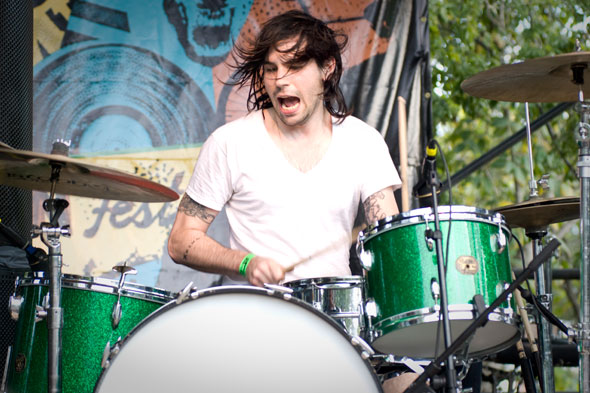 As the day went on we caught the sweet sounds of Shonen Knife, The Sword, MC Chris, No Age, Melt Banana, Yeasayer, Cool Kids, Ratatat, even Jesus Lizard… What a mix of genres, there's really something for everyone here. My highlights of the day came in the form of 5 acts that stood above the rest. Russian Circles, a Chicago based, instrumental/rock three piece. Whom I have had the pleasure of seeing many times before. These guys are dark, uplifting and each, a master of his instrument. Their dynamics give me chills. Unfortunately when playing a festival, things cant be flawless, there were sound issues with the guitar, but luckily it was toward the end of the set. Red Sparowes, was a second of my mentionables, a Los Angeles based post rock band, with former members of Isis. Another slow building, dynamic instrumental band. I also really like that they have a steel pedal! Death was another spectacular pick for this event. These guys are way beyond their years, literally. This band wrote the first punk record ever… Their material was very limitedly released due to an issue with the content of their name. The recordings were officially released this year and now The three brothers are earning the respect they deserve. Their set was killer. Les Savy Fav was next on my must see list, and rightfully so. Singer, Tim Harington, first approached us wearing all the supplies one would need to marry a reptile? Within the first half of the first song, the wedding dress and lizard skin were shed, leaving one piece of thin cloth between us and this balding, crazed, showman. There was plenty of latex gloves, red body paints, beer belly, nipple play, belly button action, humping and sweating to go around. I even forgot it was cold out. We ended the night with Pharcyde, a delicious hip hop group from Los Angeles. They pulled out some familiar beats, some sweet ass dance moves, and even a pretty little glass piece in which that carelessly yet obviously smoked the ganja. The guys put on a great show, they encourage positivity, sexuality, and pot smoking! What a wonderful end to a wonderful day. I was pooped.
So pooped in-fact we were a little late getting started on day two… but we made it, redbull in hand. By 3 p.m. I was hallucinating, dehydrated, and felt like I had been smokin the rock in some alley way. And on top of all of that, it was pouring rain alllll day, so I was soggy. God bless Texas weather. We caught a bit of Atlas Sound, which is a solo project of Bradford James Cox, Singer of Deerhunter. I really like Deerhunter so this excited my insides, but as the set went on my excitement slowly faded into dreams of pillows and the sounds of sloshing mud. I was resurrected however, in the hands of Why?! Their upbeat, hip hop/indie rock set was my cup of coffee, as if i needed anymore caffeine. We took a short rest before catching Broadcast, an England based electronic band. I've been into this band for years, so at this point my roller coaster of a day had reached its highest peak… and it just all came crashing down. After a 15 minute sound check, Broadcast stumbled lazily between two chords and lackluster vocals which could bore anyone , borderline annoying. With this disappointment, came my final crash of the day. My crew agreed and we went home to get out of the cold rain and bad bad music.
Just because we left, the festival still proceeded with a vengeance. Rain or shine folks! I missed some really great music later in the day, my regrets include… Strange boys, Lucero, HEALTH and Danzig. I would have loved to see "how the gods kill" live… what a great song. I heard he ended with "Mother," hey… Glenn Danzig can be cliche too! This year was Fun Fun Fun… I expect next year to be even better. Until then!
By Ginger Herbert
Photos by: Ryan Chahanovich