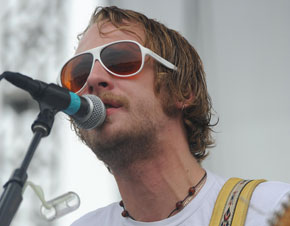 Better late than never….
The beginning of fall this year was the perfect setting for ACL, which usually takes place at the end of summer. When you're in Texas, its amazing the difference a few days make.

Weather is so fickle here, but this is the first year Zilker Park, The events host, didn't end as a dusty desert wasteland. It was very pleasant, and the line-up couldn't get much better.
The first day of the festival, I always arrive early. Anxious and so stoked I could easily piss myself. Day one this year, I was even more exited than usual. The Avett Brothers were first on my list. This brotherly duo have been a huge favorite of mine for year, and I hadn't had the chance to see them live. Of course, being the huge dorky superfan I am, I arrived early, and rushed over to the stage to watch them set up. Meanwhile, I got a surprise from the next stage over, as The Knux were finishing their set. These fine looking gentlemen actually eased my nerves a bit with their dancey indie rockin hip hop and their geeky style. I was pretty smitten. The Avett Brothers followed with a great set, of course it was heavy with songs off the new release, "I and love and you" which was quite disappointing. Despite not liking the new songs, the guys managed to impress the loyal audience. They also played a variety of favorites off their previous releases, switching instruments between each song. There is no denying, these guys are talented! Although, it would have been nice to hear less "Laundry room" and more "My last song to Jenny." On next to Dr. Dog playing at a stage clear across the park.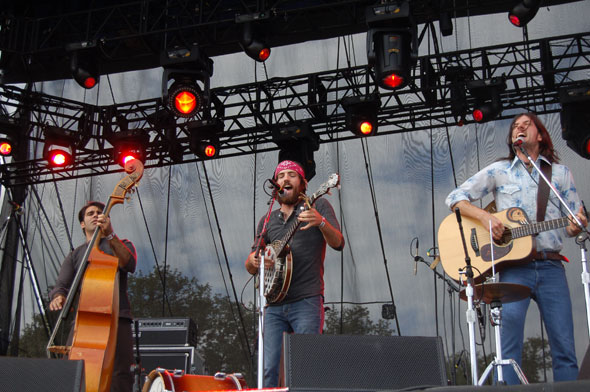 The thing about these huge festivals is, there is always a rush to get somewhere, everything and everyone revolves around this small time table. Its a tad overwhelming. After Dr. Dog, we resorted back to the press tent for some clean bathrooms and happy hour! Too bad I had to hear Coheed and Cambria in the background. Geez that band is screechy. After our brief rest we ventured back out among the masses to catch Eric Hilton and Rob Garza, also known as Thievery Corporation. These guys are a mix of jazz, electronica, and dub with influences from all over the world. The duo has grown to over 15 members for their live shows. It was fantastic, as usual. I had to miss out on, Them Crooked Vultures, which I've heard so much about lately. I whole heartedly regret that decision, but my next choice award goes to Mr. Andrew Bird. This guy makes my decision well worth it. His live show was a spectacle, taking the stage alone, but eventually bringing out a wide variety of instruments to make his witty indie-pop folk fusion come alive. Andrew seems as if he can play every instrument ever made with ease, from violins to glockenspiel. His voice is the best instrument of all, did you know this guy is a professional whistler? Teach me your ways Andrew Bird. That concluded my day, as The Yeah Yeah Yeah's and Kings of Leon finished off the day for everyone else, I just don't see the attraction to either of those bands, I'd rather be in bed.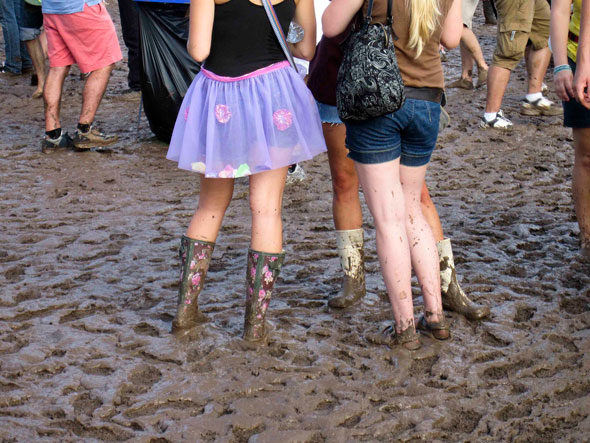 Note to second day music festival going self: Always wear sun screen on the first day! Luckily day two was the most un-sunny day of the year. The gloomy morning was the beginning of a very very rainy day. Austin was in dire need of the wetness, so it didn't seem to bother most of us. In fact, it was my favorite day! We arrived around 2 p.m. for !!!, a punk dance band from Sacramento California. Their energetic vocalist managed to convince the crowd that it wasn't even raining, with his purple umbrella that he borrowed from the pit. It was a great start to a very deliciously soggy day. Next was, Drum roll please, GRIZZLY BEAR, the moment we've all been waiting for. The Brooklyn based kings of indie rock, called to folks from every inch of the park, as we all sloshed over to see their set. Their new album, Veckatimest, was the center of attention, but of course they had to play the crowd favorites like "The Knife" and "Two Weeks." Their vocal harmonies sound just as good live, as they do on record and I expected to be wet, but not this wet! This was turning out to be quite the day, Bon Iver was next on my list. This band is a new favorite, but their latest release "For Emma, Forever Ago" won its way into my heart and has quickly become a favorite of all time. Justin Vernon, the man behind the band, has written quite the masterpiece here, and it was extraordinary live. Although, I had to move around a few times due to all the loud communications going on around me. I think Bon Iver is meant for a more intimate setting, and most of the people that surrounded me, were just distracted. I on the other hand, was infatuated. Simplicity, great lyrical content, moody minors, folky guitars, and one of the most beautiful voices in music today. Bon Iver is love! I ended up calling it quits for the day after catching a few minutes of Mos Def, The line-up for the rest of the day wasn't too convincing. Although Devotchka would have been great, I was starting to prune up and I was terrified that my camera gear was getting wet. So I said my goodbyes!
What do you get when you constantly pour water on to the earth for 24 hours, and allow thousands of people to pace back and forth on said soil. Thick, smelly, sloshy, gooey, MUD! I knew upon arrival that this day was gonna be a tough one. You could cut the horse poo smelling humidity with a knife, and the line up paled in comparison to the wonderfulness that was the first two days. The highlights of the day were The Dodo's, an upbeat indie folk pop band from San Francisco. Followed by the B52's, a band on my kick the bucket list. They still sound great, although it seemed at times they were having trouble hearing each other. They screwed up "Rock Lobster" but honestly, I think I might have been the only one to notice. Their energy was fantastic. Its sad to say, but at this point it was only 3 p.m., and there was nothing left I wanted to see. It was a weak day. Pearl Jam closed out the day, and laid the fest to rest. I have to admit, I am a huge fan of Pearl Jam, but they haven't really had the spark since "No Code" and that might be pushing it. But I did hear that Eddie is still preaching politics, and grunging it up. Long live the Flannels man! And love live ACL! See you next year.
By Ginger Herbert