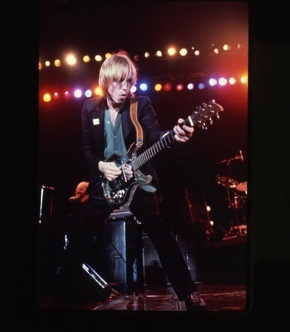 Tom Petty and The Heartbreakers have launched The Superhighway Tour, a first of its kind online-only music experience that delivers 24 of the 48 tracks from the forthcoming Live Anthology as high-quality digital downloads and on-demand streams in advance of the Live Anthology's release.
"Ticketholders" will receive an insider's view of those 24 tracks, through archived memorabilia reproduced on the site, new band commentary, classic reviews, and curated content from the Tom Petty and The Heartbreakers vaults. Fans will also be able to share their photos and stories from their favorite Tom Petty and The Heartbreakers shows. Then on the album's November 24 release, ticketholders will receive the remaining 24 tracks on The Live Anthology, thereby completing the digital album.
Access to the Superhighway Tour will be available to fans that purchase "tickets" from Ticketmaster.com or through the Superhighway Tour box office.
Tickets for the entire 8-week Superhighway Tour are on sale now through Ticketmaster.com and TomPettySuperHighwayTour.com. The price of a Superhighway Tour ticket includes all 48 The Live Anthology digital tracks plus the 8-week online experience for $24.98 without any additional service fees. Downloads will be available in 256kbps MP3 or FLAC formats – fan's choice.
[youtube TYqFjhadTPE nolink]
A FREE PREVIEW of the SuperHighway Tour is now available at http://www.tompettysuperhighwaytour.com and includes a FREE DOWNLOAD of a track from the 1981 run of shows at Los Angeles' Forum.