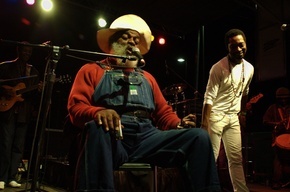 In partnership with the Concord Music Group, Playing For Change announced the launch of a new record label that will support releases from select artists associated with the global music and multi-media collective Playing For Change. The first artist signed to Playing For Change Records/Concord Music Group is legendary New Orleans street performer "Grandpa" Elliott whose debut album Sugar Sweet will be released on Nov. 3rd.
Grandpa Elliott has been entertaining audiences in the French Quarter for over sixty years, but his popularity has gone global in the last year after the Playing for Change hit viral video for "Stand By Me", featuring 37 musicians from all over the world received over 30 million views on sites like YouTube and Vimeo.
Streaming Link For "Sugar is Sweet":
"Grandpa" Elliott Small, singing on the streets of New Orleans since he was a six year old, can capture a crowd with a single note. His mellow baritone makes the sounds of a busy New Orleans street fall away with its warm sincerity and while the blues may inform his lyrical harmonica playing, he has his own unique sound. Sugar Sweet, produced by Playing For Change founder Mark Johnson and Reggie McBride, was recorded in New Orleans with the Playing For Change Band.   Grandpa Elliott has been singing with the PFC Band for the past year and they have developed an uncanny rapport. Their enthusiasm and ability to lay down sturdy, elastic grooves is evident throughout the album, adding sympathetic backing to Elliott's soulful vocals and sinuous harmonica.
Playing For Change & Grandpa Elliott "Fannie Mae":
[youtube tGoBUnC809w nolink]
Live in Los Angeles: Playing For Change & Grandpa Elliott "Fannie Mae":
[youtube Q–UWtR-7×4 nolink]