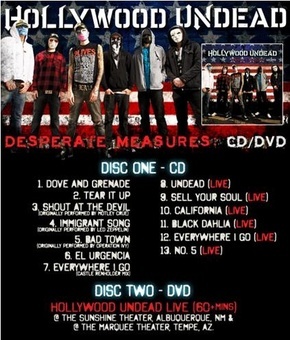 Hell Yeah! The first full cut from the highly anticipated new CD/DVD, "Desperate Measures" 6 crazy MC's, 6 live records, 6 new studio recordings, and 60 minutes of HU live and uncut. Preorder now on itunes!! In stores and online Nov 10!
A&M/Octone recording group Hollywood Undead will give their fans something brand new to talk about on November 10th, when they release a two-disc CD/DVD consisting of 6 new studio recordings, 6 live recordings and a full 60 minute live performance on DVD (preorder available today, 10/27 on iTunes).
The new package dubbed Desperate Measures : CD/DVD is an eclectic mix of new studio recordings produced by Danny Lohner (Nine Inch Nails) and live recordings of fan favorites. In its 60th week on the Billboard 200 album chart, the debut album Swan Songs remains inside the Top 200, with total sales of more than 500,000 and average sales of 5-6,000 per week – testament to the band's explosive headline performances and online marketing.
[youtube 60YMD0o6wJw nolink]