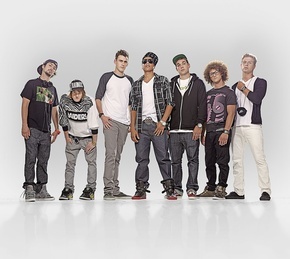 Down With Webster's new album Time to Win, Vol. 1 is in stores now. This Canadian seven-member ensemble has been making music since meeting in grade school 10 years ago. They played on the 2009 Vans Warped Tour and are opening for Forever the Sickest Kids from Nov. 6 — 15. Their new single "Rich Girl$" is out to radio now.
"Rich Girl$" – Windows:
DOWN WITH WEBSTER is a 7-member, genre-bending, musical ensemble that incorporates everything from rock, funk, and hip-hop into their sonic brew. Their chaotic live shows are the stuff of local legend, selling 1000+ tickets as headliners in their hometown of Toronto as an indie band before ever releasing a single or video. DWW have played with everyone from The Roots to a month-long run on Warped Tour and slot on Virgin Festival in 2009.