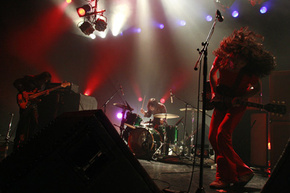 Yura Yura Teikoku are a bonafide institution at home, arguably the only 'underground' psychedelic group in Japan to have achieved 'overground' success.
They've attracted a huge following over the past 20 years yet became progressively stranger and more ambitious, cramming weird and classic influences into a unique, potent form. Like the Boredoms' relation to krautrock and Boris conquering stoner metal, Yura Yura Teikoku have put their uniquely Japanese spin on all forms of FM/AM classic rock music to dizzying effect.
Hollow Me, their tenth studio album, abandons the ecstatic, blown-out approach of their earlier work for a far more subdued and streamlined palette of sounds. The songs were composed to impart a general feeling of emptiness or "hollowness." Sakamoto's fierce guitar work is legendary in Japan, yet the album shockingly contains not a single guitar solo. The band set about by their own dogmatic set of rules and stuck close to them. Influences come at you in strange disguises, templates taken from everyone from T-Rex to ESG to Can to 10CC. All of this comes together without seeming gratuitous or forced, no small feat indeed. And what we are left with is one of the most cohesive new rock LP's in any language.
Free MP3 of "Dekinai" Available: