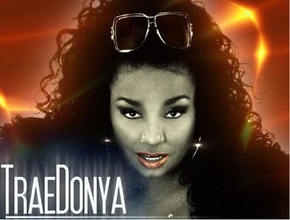 It's not everyday that you're penned "The Bride of the New Funk Hipopera" by a British magazine, but hey, Traedonya! makes it look easy.
"My family is a music family," Traedonya! explains. "My family is not like the Jackson family or anything like that, [but] they're all into music, all types of music. I already grew up around music people anyway, but as far as going to theater and art shows and stuff like that, that was her (mom's) thing."
 
As a young'n, Traedonya! went all over with her mom — North Carolina, New York City and the West Indies.
"My mom is very eclectic and very 'let's go see that' and 'oh that looks great'," she adds. "I was her little running buddy. I'm like a mini-me of her."
 
With this kind of background, Traedonya! says she can seek out what's hot and what's not in the music world.
"I could say if it was a good country song or a country song [that] sucks," she says with a laugh. "I could tell you some good music here and there and what's what. That's how we were raised."
It doesn't hurt to be culturally diverse in your surroundings as well.
Traedonya Feat DJ Prophit "I'll Give It To You RMX" MP3:
"I didn't go to an all black girls' school. I went to Catholic private school where your parents, whatever they were doing, they better have their money every month or every year," Traedonya! notes. "We had the thugs, the girls driving corvettes at 16…we all wore the same uniform, which was cool.
"My friends are from everywhere — crazy black girls, crazy white girls, etc." she adds. "I don't look at color. That's how I see people. That's how I was raised, that's how my mom raised me."
Traedonya!'s background in music is just as mixed. Before crossing over to R&B with her band the Traedonya! Review, she previously had a jazz band called Sample This. She spent her college time at a conservatory in New York studying jazz in a special program that accepted only 140 students per semester.  
"As far as being around those 'ol school [cats], I'll call them classic," she explains. "These kids are like 80, 90 years old, 75. They don't care! They smoke in class, they don't care, but that's jazz though. They want you to get the notes right."
Traedonya!'s presence grew to have an overseas appeal when she moved to London and stayed for three years.
"When I went, I was there for two months by myself — no band, nobody, just me and my suitcase," she says, adding that she lived in a counsel flat, or the American equivalent of the projects. "You might live next to an Irish dude who may be black or white, or an African dude that is black or white, or an Asian dude that is British or Asian. When you're broke, you're broke. Race and class mix. Here, it's an American thing, race and class thing — they don't go together there. I appreciated that."
As a mixture of pop, electronica, hip hop, classical, soul, roots and R&B, her sound perked up the ears of European audiences in Germany, Ireland and even Sir Paco Rabanne in Moscow, Russia.
 
"When you move around, you get to see people (us) whine for nothing," Traedonya! explains. "Just Americans period, I think people are whiners. Europeans brought this to my attention. When I went to Belfast —that was the hood! That's why I think [when] the world sees that goes on around here, they lookin' at us like 'join the fuckin' party, shit's messed up! You ain't better than me, welcome'."
 
Music is also viewed in a different light in Europe versus the U.S.
 
"I would always get asked 'who's the best musician over there (in America)'," she says. "As far as singers, they turn to America to see what's hot. They know this culture and what's hot. They know a lot of artists over there that I wouldn't know over here. You can actually go and do some shit over there and they like it, they like it, they don't, they don't."  
 
Passport on hand, Traedonya! is always ready to go wherever life takes her.
 
"I keep a bag in my car — a black dress, some jeans, and some sneakers," she notes. "I been rollin' like that since I was 18. I'm not married, I don't have any babies, I'm always ready. That's me all day. I always knew that I would sing and perform and do what I'm doing. I always had something say, I always knew I wanted to travel."  
 
Traedonya!'s current project, a release called "I'll Give It 2 U," is something she describes as "the most commercialized record I've ever done."
 
"The songs that I was doing while I was on my mini-tours over there (in Europe), they got to hear the real me," she says. "I don't think the stuff that I'm promoting has not let me show the total me. I'm just a girl that is doing music and I grew up a certain way, but I grew up on the other half of the picture."
   
Another track, "Be Loved", allowed her to gain tremendous global recognition, as she describes it.
 
"I feel like I shouldn't be looked at crazy 'cause I'm a black girl," Traedonya! notes. "I just wish people would open up more and a lot of cats that listen to like Coldplay, they're listening to other stuff."
"I love the crossroad, but I love when it crosses boundaries," she adds. "Rich people should live like poor people for a while, and poor people should live like rich people for a while, everybody should see everybody's experience."
"Before I go, I just want to tell everybody to look out for the remix compilation of  "I'll Give It 2 U" and much respect to 3YL in Italy, Flower Power in Holland, and  LTHRBOOTS in Texas, and a special shout to Die In New York from Indonesia. Look out for that on I-Tunes and other fine digital stores,  November 2009."
For more information on Traedonya visit: www.traedonya.com.
Author: Erika Y. Gradecki