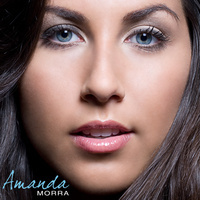 The first thing that blew me away was the simple fact that this was a debut album.   Incredible news to my ears because the quality & professionalism put into this disc was undeniable and damn near impeccable.   This artist seemed to be a seasoned vet in the studio based on the overall sound coming from this record.  
Amanda Morra is her name as she has already caught the eye of many.   Morra has already appeared on TVs eTalk and ETCanada along with being included on the covers and inside pages of VerveGirl and Canadian Living magazines.   She started singing lessons at age five and since then has gone on to The Canadian Vocal Academy of Music & the Cardinal Carter School of the Arts for voice training.   The list continues as Morra has also studied in jazz, tap, ballet and hip-hop along with appearances on TV commercials, print campaigns, short films and has even done voice work for commercial projects.   One of her most rewarding/commendable accomplishments would be actively participating and volunteering for the program, "Wal-Mart Kids".   This organization helps raise money for childrens' hospitals all over Canada.   This young lady seems to have soaring talents, amazing ambition and a good heart to balance it all out.   With skills galore and an engaging entrepreneurial spirit, Amanda Morra is reaching for the skies as she hopes to also inspire others.   This talented and beautiful young lady has definitely given me inspiration as she appears to be the real deal.  
What I hear when listening to this debut record is the making of a pop/dance diva.   Morra offers an unmistakable pop sensation with a hot dance craze.   You get popilicious music with some really cool, club-worthy dance beats that will make you move.   Morra's singing is quite nice with a lovely pitch & tone to her voice.   She sings in such a soft 'n' sweet-sounding fashion, but always full of pep, emotion and power.   On the track, "Room to Breathe", you actually get a sense that this is music for the heavens because of its feel-good attitude.   Amanda then flips it up on us and shows us her spicy, sexy and saucy side on "Whiplash".   Justin Timberlake was "bringin' sexy back", but Morra is bringing her own version of sexiness with divalicious beats that you can groove 'n' move to.   The Toronto singer even adds in a little splash of R&B imprints on "More and More" along with an upbeat, ballad-type song on "Better Days".  
Plenty of sass and heart is what Amanda Morra has on this freshly hip 'n' hot debut.   A final line from the song "Dreams" is a perfect memento to end on:   "You know you gotta have hope.   You know you gotta be strong".   Perfect message from an artist who'd like nothing better than to impact peoples' lives and make a difference through her own music.   For more on Amanda Morra and her exhilarating new release, SKOPE out www.amandamorra.com.   Looks like there is a new DIVA in town, so watch out music world!
By Jimmy Rae
[Rating: 4.5/5]