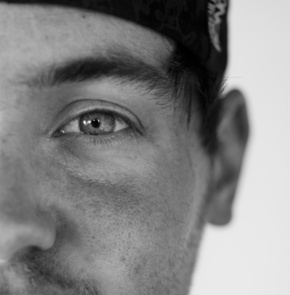 The title of my next  feature tells it all. Before I met my next guest I was a stranger to hip hop music that emcees are creating in the beautiful country of Iceland. Well that has all changed since S. Creeezy hollered at me. Not only is S. Creeezy a student of hip hop but he can produce and rhyme with the best of them. S. Creeezy has got radio play, a solid discography, and many live shows on his resume. Not only am I excited to meet S. Creeezy but I am excited for hip hop's global presence & power.
Stoli: How did you get the alias S.Creeezy?
S. Creeezy: I've had a couple monikers throughout my career, and I settled on S.Cro like two years ago, but during a freestyle cipher I stretched it out to S.Creeezy like so many US rappers and it kind of stuck, it was a bit of an inside joke actually. It's not permanent, but for the time being I kind of like it.
Stoli: At what age were you introduced to hip hop and what made you decide to give it a try yourself?
S. Creeezy: I fell in love with Hip-Hop when I heard The Score by Fugees, which was '96 I believe, and I became an avid listener after that. I moved to Florida a year later and lived there 'til 2002, that's when I returned to Iceland, and it's a bit ironic that I didn't start rapping until I came back to Iceland, but that's when I met up with some people who were doing it and was blown away by the fact that these ordinary, everyday people were recording music that sounded professional, and I was hooked after that. I think I've actually been doing it every day since then.
Stoli: What is the hip hop scene like in Iceland and what are some of the hot venues to perform at?
S. Creeezy: The scene here in Iceland is small, even when you consider the fact that it's a country of only 300,000 people, in my mind. It's basically the same group of people that actively do it and we're extremely wary of newcomers. As far as venues go, the only real venues that we perform at are the downtown clubs, and mostly spots in the Reykjavik area. Also, every year the Iceland
Airwaves Festival hosts a Hip-Hop evening, which is regrettably getting smaller every year, the Hip-Hop evening that is, but I've been performing there since '06 and will be performing this year as well.
Stoli: Your music is hot, there is no doubt. Do you think that hip hop heads outside Iceland are naive to an emcee from Iceland and how do you deal with that adversity?
S. Creeezy: Thank you, and I don't know — I hope not. I don't worry about what people say, as long as those that are the closest to me are feeling it, they're the only people that matter, the ones that I grew up rapping with. And I think race or nationality shouldn't even be an issue any more, it's the 21st century and I think it's going to be defined by diversity and acceptance.
Stoli: What kind of environment do you need to write & record new tracks?
S. Creeezy: I like being alone with the volume up loud — so I can feel it and really focus. I don't have any specific ritual or anything like that, I can be anywhere as long as I have some peace of mind.
Stoli: Your music is upbeat & positive. Why did you choose that route as opposed to talking about drugs, hoes, & guns?
S. Creeezy: hehe I come from Iceland, so honestly guns were never an option — there's not a lot of gang activity here in Iceland. And I keep it clean, as far as drugs go, I guess I've always gravitated to people who were positive, and steered clear of all that, I mean I drink, but that's it. And hoes, hehe, I CAN get carried away rapping about girls, but I guess the terminology is a little bit different most of the time. Bottom line is — I want to be remembered for something positive.
Stoli: What does being a solo artist offer you instead of being in the group,   Original Melody?
S. Creeezy: I'm still very much a part of Original Melody, we're working on some material right now, it just takes longer, but as a solo artist I'm not dependent on anybody but me. So, I can explore topics that O.M. probably wouldn't go into, and the whole process is just easier. I also like collaborating with different beat-makers, and working solo gives me the option of approaching different people — even though Fonetik (O.M.'s producer) will always be my favorite.
Stoli: You create very catchy hooks. What is the order in which you create the track. Does the hook come first and the lyrics next, how you do that?
S. Creeezy: Thank you. The hook comes first when I do Creeezy solo. I've predicated a lot of the tracks for this album on the hooks, because this project has been a bit more Pop that the rest of my stuff. I usually start with a concept and develop a hook from the concept, then I write the verses, bridges, etc.
Stoli: Who are some US rappers that are real hot in Iceland?
S. Creeezy: We have a lot of very talented rappers in Iceland, my favorite today is Opee from O.N.E., they just released an album and it was great! Opee was somebody I really looked up to when I started, so it has been a blessing to have been featured on that album. I also like Forgotten Lores, they rap in Icelandic and are nice with it. Tiny used to be a favorite of mine as well, he rapped with Quarashi but hasn't been doing much lately.  These people come to mind first, even though there are too many to mention. And of course my dudes in Original Melody, they're nice!
Stoli: What do you like to do when you are not in the studio?
S. Creeezy: I'm into movies, I watch a lot of movies, recently been getting into a lot of that golden-era Hollywood stuff, which is ncool. I also try to read as much as I can, I have a degree in English so literature is a certain passion of mine. And I'm a social person, so the weekends are reserved for drunken benders with the fellas — there's not a lot to do in Iceland.
Stoli: Your flow is incredibly fast at times. How long did ot take to develop your flow that you are comfortable with?
S. Creeezy: I'm a big Bone-Thugs 'N' Harmony fan, so about a year or two after I started I had to mess with the fast-flow a little bit. I don't do it as much these days, that is, it doesn't really define my style. I think I'm still developing my flow because that's a lifelong project, I keep changing my voice timbre and experimenting with different styles, I try to adjust it to every new track I get.
Stoli: When you think of hip hop today do you like what do you see and what will S. Creeezy bring to the table?
S. Creeezy: I think there's a lot of positive stuff going on, as well as a lot of not-so-good stuff. Everybody is a rapper nowadays, and they usually release songs online without having refined their style much, and I think some people lack originality. I'm more into that old-school but I like some of that new stuff as well. I think a lot of people are still doing a great job at maintaining it. I'm trying to bring Iceland into the picture, put us on the map, and even though this album might be construed as Hip-Pop, because that was something I wanted to experiment at the time, I think in the future I will definitely try to maintain that classic, boom-bap Hip-Hop feel, and do it well.
Stoli: I think hip hop will faze out albums in 10-20 years and go with EP's and singles only. Do you agree with that and where do you see hip hop then?
S. Creeezy: Some artists might opt for that route, but I think the album will still be strong in the future. I think of an album as a book, or a novel, as a unified whole with a distinct sound and message, and because of that I don't think that it will ever be fazed out by any particular genre. I think Hip-Hop will continue to expand in the future, and continue to merge with other genres, but I think it'll stay true to its essence as well.  
Stoli: What do you feel about hip hop beef and if an emcee goes after you do you retaliate?
S. Creeezy: I grew up battling, and I used to be a beast in the cipher, hehe, but I wanted to be more than a battle emcee, so I tried to develop as an artist. But, if anybody comes at me I might respond with a few bars, Hip-Hop is competitive, but   I'm not much of an instigator, I mind my business and focus on the positive.
Stoli: What is coming up for S. Creeezy and where can readers get more from you?
S. Creeezy: I'm working on an album with Fonetik Simbol, as Mighty Jukebox, you can check that out at www.myspace.com/mightyjukebox. And as far as my solo stuff goes, I'm still trying to find someone to release that material, and perhaps hook me up with some kind of deal. You can check out my solo at www.myspace.com/crowinthestorm, where I might be uploading new material soon. Peace!