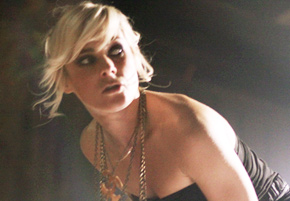 Fresh off of the No Doubt tour, The Sounds, led by the jaw-dropping Maja Ivarsson came through Club Revolution in Fort Lauderdale, Florida and delivered an adrenaline-pumped, beer soaked set.
Let's get this straight — Maja Ivarsson is someone you probably wouldn't want to piss off, and you could grasp that feeling from watching her perform on stage. Whenever she wasn't fondling with her bandmates, the fueled-by-beer songstress was getting a knee kick workout on stage. Not to mention her athletes legs. Along with her signature knee kicks, were Maja's scandalous dance moves and even a split jump that is even more shocking when you realize she pulled it off while wearing heels. Fortunately, Maja had enough space to dance, and nobody was hurt.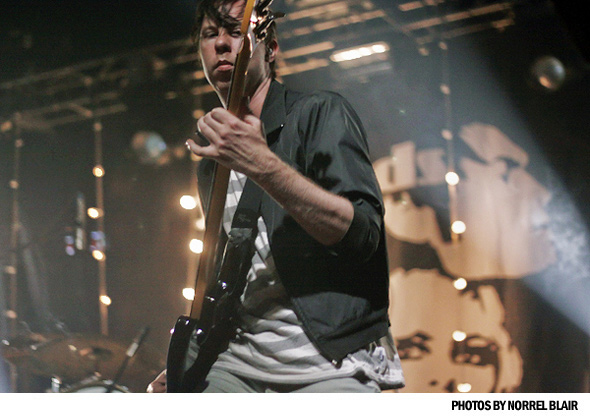 The Sounds are touring in support of their new record Crossing The Rubicon, and opened the night with the majestic title track, featuring vocal/keyboard work from Jesper Anderbeg, only made more majestic by the burning incense candles and spinning disco ball on-stage. As the song faded out, The Sounds kicked into "Dorchester Hotel", and the modern day Debbie Harry finally made her entrance, followed by the roaring crowd. For the first half of the set, the band performed old favorites like "Queen Of Apology" and "Seven Days A Week", and ended it with the a very intimate performance of the lighter-waver "Night After Night". Maja took a moment to let fans know usually she has to tell the crowd to sing along with, but was reluctant to realize she didn't have to tonight.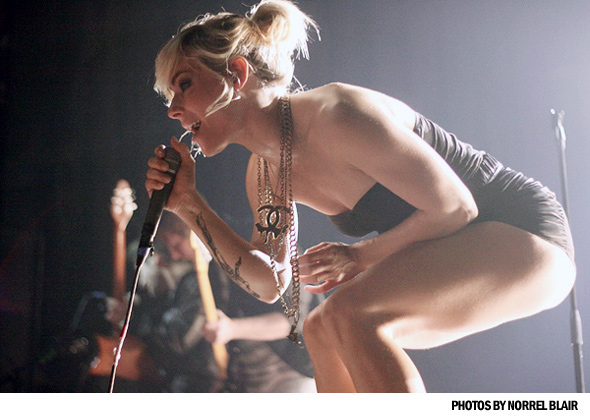 The remainder of the 20-song set featured tracks from the new record and a balance of the old. "This is an old song … We wrote this song before we came to America", was how Maja introduced the ironically-titled "Living In America". Following was "Ego", which was most definitely one of the highlights of the night, and was ended in a flawless drum-off with Fredrik Nillson, and on an electronic drum set was Jesper and Felix Rodriguez, that closed the main set. But as any fan of th rock show knows, there is always an encore. The Sounds came back out opening the encore with "Tony The Beat", but not before Maja had the chance to shower the crowd in a wave of Budweiser. Ending the long and ferocious night was "Hope You're Happy Now". Every now and then, Maja would ask if the crowd was having a good time, which was a light way of putting the knid of a time the crowd was having. Way too light.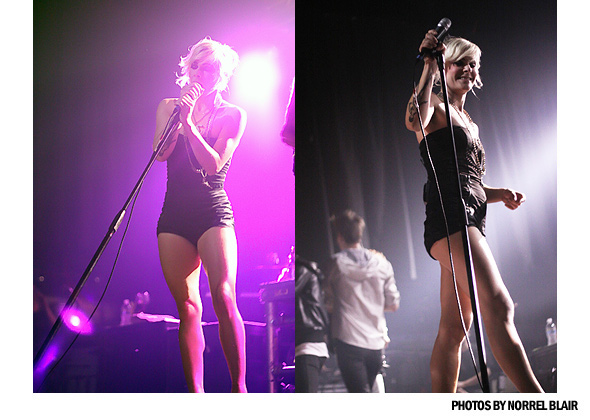 SETLIST
Crossing The Rubicon
Dorchester Hotel
Queen Of Apology
Hit Me!
No One Sleeps When I'm Awake
Seven Days A WeeK
Midnight Sun
Night After Night
—
4 Songs & A Fight
Hurt You
My Lover
Beatbox
Rock N' Roll
Underground
Paitned By Numbers
Living In America
Ego
—
Tony The Beat
Song With A Mission
(Hope You're Happy Now)