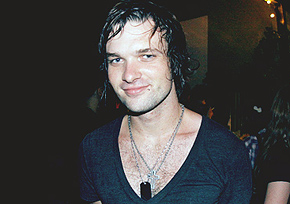 On Day 2 of The Almost tour, Skope was able to do an interview with Gavin Phillips from This Providence on the tour's stop in Ft. Lauderdale, FL at the Culture Room.
This Providence have recently been making a bigger impact on the scene with the release of their new album Who Are You Now?, and playing on tours with other up-and-rising pop-punk bands like Sing It Loud and Hey Monday. We had the chance to talk to guitarist and founding member Gavin Phillips about touring, favorite albums of this year so far, and an expensive tour story.
You guys were just recently on a huge tour with Hey Monday, then a few dates on Warped Tour, and after this tour with The Almost you'll be back on the road with Cartel for another nation-wide tour. How does all this touring affect you and the band?
We've been doing it for a while, it gets really tiring at times and sometimes we really miss home, but it's what we love to do so we have fun with it. We've been on tour pretty heavily this whole year. Me personally, I've gotten used to it and I'm kind of addicted to it; I get antsy when I'm home.
I'm sure fans would like to know if you guys have plans for a head-lining tour before the year is over?
Not before the year is over, Cartel will be our last tour of the year, beacuse it runs all the way up until the end of November. But, hopefully in Spring or early next year we plan on doing a headlining at some point, because we never have and we'd love to. We get requests for it all the time, we've just never had the chance.
What was the decision behind putting "Sure As Hell", one of the slowest songs on the album, as the first one?
Because it's such a short song, we felt it could almost be an intro and it was one that our singer Dan [Young] wrote pretty quickly, and it just kind of fit there.
What is the meaning behind the title of your recent album, Who Are You Now?
We're always figuring out who we are, and it's a good question to ask yourself. I mean, we always change over the years and us as a band have changed so much, and it also resembles us finding our identity as a band musically. It's kind of a question we asked ourselves when writing this record, like what kind of record do we want to make and who are we as people, and how do we want this to affect music.
How involved are you in the writing process?
All of the lyrics and melodies are our singer Dan. Other than that, I'm probably most involved in the musical stuff, drums, bass, and guitar. On our previous albums, it was one-hundred percent me and Dan. I wrote all the music, he wrote all the lyrics. On the new record, we collaborate more with David and Andy, it was more of a collaborative effort this time.
When choosing between which version of "Sand In Your Shoes" to use on the album, how did you guys go through that decision?
Well, when we recorded it with Matt Squire we put all this extra stuff. I played lap steel, put all these different drums, guitar, and bass. We were kind of deciding if we wanted to keep it really stripped down for the record or have all these things involved. So we thought slightly more stripped down was the better way to go for the record, than this other version that had everything else.
What are some of the bands that are most played on your iPod?
Of all time, probably Jimmy Eat World, Saves The Day, and I listen to Less Than Jake a lot. Lately though, I've been listening to Hit The Lights most recent record a lot, and the new Maylene & The Sons of Disaster.
How does your Christianity play out when it comes to This Providence?
I guess it's somewhat obvious in our lyrics. We've tried to keep it seperate from our music, I mean we're not a Christian band neccesarily and we're all in very different spots in our faith. Maybe in the past and in our previous albums it was very present when Dan was writing lyrics, it was more relevant for him at the time.
Since this tour just started yesterday, I'm sure there are no real tour stories yet, so is there a really good one you have from Warped Tour or the Let's Make A Mess Tour?
On Warped Tour we did one of those Denny's All-Nighters and there was probably six other bands. Us and VersaEmerge did it and it there was a bunch of bands, and I think the bill ran up to almost $2,000. I think the four of us ordered steaks, and we hardly ate them.
Even though 2009 isn't over yet, what are your personal top 5 albums of the year?
Probably right now, I've been listening to Three by Maylene & The Sons of Disaster. I think thats a very good album, it's different from what I'm used to. I actually really like the new Brand New [Daisy] a lot, also New Again by Taking Back Sunday; that record is incredible, and the new Third Eye Blind that i'm very excited for.