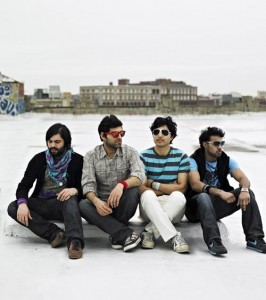 With all the doom and glooming around the music industry these days (we have our life vests ready, mind you), it's nice to hear a positive story for a change. And surely the beginnings of Brooklyn quartet Bamboo Shoots couldn't be more encouraging. After all, songwriter Avir Mitra was moments away from hitting the books at medical school when his band's world was turned upside down with a phone call. See, they'd won the MTVu Best Music on Campus contest. And as if a nod from the world of Moon Men wasn't enough, they'd be lucky enough to ink a deal with Epic Records, and perform on Late Night With Conan O'Brien — in a matter of dats.
To say their rise was meteoric undersells the night-and-day transformation Bamboo Shoots underwent just one year ago. A crew of Indian guys, weened on 80s baby music, tempted to dance by Daft Punk, tempted to twitch by the Talking Heads, and tempted to take over the world all by themselves, the band would tour with Plain White T's, share stages with Soulja Boy (no, really!), and hear their songs in national ad campaigns for Virgin.
All this, and they hadn't even stepped foot in the studio to record their Epic debut, Armour. That album, a bubbly cocktail of new wave, dance pop and a dash of their Indian heritage, would be shepherded by producer Jerry Harrison (of Talking Heads and Modern Lovers), and mixed by the uber-competant Mark "Spike" Stent, who straddles the line between megapop (Madonna, Beyonce, U2) and indie (Arcade Fire, CSS, MIA) like few others. The result is a frenetic offering that teems with Price-indebted electro like "Hey Girl," available for download below.
Listen to "Hey Girl"
[audio:http://skopemag.com/audio/01_hey_girl.mp3]