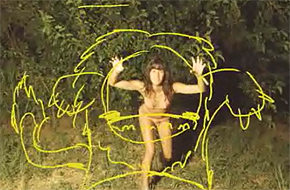 After the new Lip's album Embryonic, which is slated for an October 13 release, streamed at Colbert Nation, the band put out a new video for the song, "I Can Be A Frog".
The song itself is pretty weird, but after talks of having a congregation of naked bike riders, it's safe to say that the Flaming Lips don't know the meaning of weird. "I Can Be A Frog" features Karen O of the Yeah Yeah Yeahs doing animal sounds in the background accompanying for every animal Wayne Coyne mentions. While listening, you can hear that this song is all fun and games as O trys not to laugh with every "RAWR" and "CHIRP" she emits.
Myspace released today the video for "I Can Be A Frog". Click below to watch it in all it's bikini-girl-doing-animal-impressions glory.