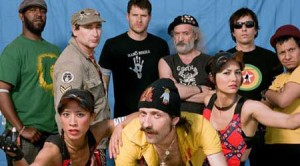 Internationally acclaimed Gypsy punk powerhouse GOGOL BORDELLO will release the ultimate fan piece LIVE FROM AXIS MUNDI, a CD/DVD featuring all of the fan favorites live for the first time on DVD. LIVE FROM AXIS MUNDI will also feature a CD of previously unreleased tracks including "Stivali E Colbacco" from the Super Taranta! sessions, the popularly requested "Troubled Friends" from the Gypsy Punk sessions, "Roumania," a demo of "60 Revolutions" and an instrumental version of "Immigrant Punk." The CD also features six tracks from the band's BBC sessions, recorded on BBC-Radio 1's "In The Company Of (with Colin Murray)" in March 2008. LIVE FROM AXIS MUNDI will be available on SideOneDummy Records on October 6, 2009.
Since the release of Gypsy Punks in 2005, Gogol Bordello has been circling the globe igniting the international community with their frenzied brand of anarchic mayhem. LIVE FROM AXIS MUNDI captures the energy of Gogol Bordello's now legendary live show from two sold-out nights at Irving Plaza in New York City filmed in 2007. The package features live performances of "Start Wearing Purple," "Ultimate," "Not A Crime" and the ultimate encore song "Baro Foro" as well as music videos for "Start Wearing Purple," "Not A Crime," "Wonderlust King," "American Wedding," bonus chronicles and extra tracks.
Gogol Bordello's unique gypsy-punk sound grew out of the immigrant experiences of frontman Eugene Hutz, a Ukrainian forced from his home by 1986's Chernobyl nuclear disaster. Hutz lived in Hungary, Austria, and Italy before settling in New York City and founding Gogol Bordello in 1999. Since that time, Gogol Bordello has been steadily packing in bigger and bigger venues and wowing festival stages around Europe, Asia and North America including Coachella, Glastonbury, Roskilde Festival in Denmark, Fuji Rock in Japan and a performance at last year's Live Earth at Wembley Stadium in the UK.
Gogol Bordello is gearing up for another global stomp in October. See below for complete tour details. Tickets for all U.S. and Canada shows are on-sale now, check out www.gogolbordello.com for more information.
DISC 1 – CD
Track Listing:
1. Ultimate (BBC Sessions)
2.Wonderlust King (BBC Sessions)
3. Mishto (BBC Sessions)
4. Alcohol (BBC Sessions)
5. American Wedding (BBC Sessions)
6. You Gave Up (Roumania) (BBC Sessions)
7. Stivali E Colbacco (Super Taranta Sessions)
8. Troubled Friends (Gypsy Punk Sessions)
9. 60 Revolutions (Demo)
10. Immigrant Punk (Demo)
11. Immigrant Punk (Instrumental)
Disc 2 – DVD
LIVE FROM AXIS MUNDI
Ultimate
Sally
Not A Crime
Dogs Were Barking
Wonderlust King
Mishto
Forces of Victory
Tribal Connection
60 Revolutions
Start Wearing Purple
Think Locally, Fuck Globally
Punk Rock Parranda
Illumination
Baro Foro
XTRA TRACKS
Immigrant Punk
East Infection
Avenue B
Harem In Tuscany
VIDEOS
Start Wearing Purple
Not A Crime
Wonderlust King
American Wedding
BONUS CHRONICLES
Creative People Must Be Stopped!
Sacred Darling
Purple (The Pizdetz) Musika Agressia
Upcoming NATIONAL AND INTERNATIONAL Tour Dates:
DATE CITY, STATE/PROVINCE VENUE
10/03/09 Winnipeg, Manitoba Burton Cummings Theater
10/04/09 Saskatoon, Saskatchawan The Odeon
10/05/09 Calgary, Alberta MacEwan Hall
10/07/09 Edmonton, Alberta Edmonton Events Centre
10/09/09 Vancouver, British Columbia Vogue Theatre
10/10/09 Vancouver, British Columbia Vogue Theatre
10/11/09 Spokane, Washington The Knitting Factory
10/12/09 Boise, Idaho The Knitting Factory
10/13/09 Eugene, Oregon McDonald Theatre
10/15/09 Oakland, California Fox Theatre
10/18/09 Anaheim, California The Grove of Anaheim
10/20/09 Tempe, Arizona Marquee Theatre
10/21/09 Tucson, Arizona Rialto Theatre
10/24/09 Lawrence, Kansas Liberty Hall
10/25/09 Columbia, Missouri The Blue Note
10/27/09 Columbus, Ohio Newport Music Hall
10/28/09 Richmond, Virginia The National
10/30/09 Atlanta, Georgia Variety Playhouse
10/31/09 New Orleans, Louisiana Voodoo Music Experience
12/1/09 St. Petersburg, Russia Glav Club
12/2/09 Moscow, Russia Grand Milk Theatre
12/4/09 Kiev, Ukraine Balkan Fest
12/8/09 Warsaw, Poland Stodola
12/9/09 Krakow, Poland Rotunda
12/11/09 Prague, Czech Republic Sporthall
12/12/09 Dresden, Germany Reithalle
12/13/09 Erlangen, Germany E Werk
12/14/09 Karlsruhe, Germany Tollhaus
12/16/09 Thessaloniki, Greece Principal Club
12/17/09 Athens, Greece TBA
12/19/09 Tel Aviv, Israel Hangar 11
12/20/09 Tel Aviv, Israel Barbey Club