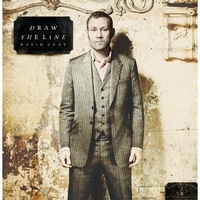 Unless you're an musical icon like Bob Dylan or an indie darling like Conor Oberst, being pegged as a singer-songwriter can be quite an albatross–particularly for one who writes mostly pop songs. David Gray probably knows this better than most because the critics haven't always been kind to him despite his selling millions of albums worldwide.
Gray did receive plenty of notice for his breakthrough 1999's White Ladder which featured the hits "Babylon" and "Please Forgive Me" but subsequent releases have been mostly ignored by critics. This might change, however, as the British singer's newest cd Draw the Line (to be released on Sept. 22 in the U.S.) showcases a new David Gray, one who forsakes his past self of introspection for a more open look at the world.
This becomes apparent almost immediately as Draw the Line's first track and opening single, the infectious "Fugitive," speaks of how easy it is for people to become so stuck in their own personal bubble that they end up hiding from enjoying life. Making the track even more effective and one of Gray's best ever is the splendid piano, layered electric guitars, and gospel choir behind it.
After that wonderful start, it would be easy for Draw the Line to lose its muster but that rarely happens. A piano and soothing background vocals feature prominently in yet another standout track called "Jackdaw." The real power behind the song though is the perfect yet subtle strings accompaniment and Gray's passionate singing.
Later on, Gray showcases his ability to write fun songs with "Stella the Artist." The track is as bouncy as anything Gray has done and it probably will be a live standout.
While those three songs showcase the more polished side of Gray's songwriting, there are plenty of instances on this cd where the artist keeps things sparse and organic. The best example of this is the fantastic ballad "Transformation." The song is mostly Gray at the piano with a simple drumbeat and backing vocals but the singer has never sounded so
alive.
If there is any complaint that can be applied to this album, it will have to revolve around the fact that Gray's musical style hasn't evolved much over the years. His forte has always been slow-to-mid tempo songs with acoustic or soft electric guitars and a prominent piano. One might have thought Gray's sound would change this time around as he hired a new backing band for this album. That is not the case, however, and this might frustrate some looking for more diversity.
Nevertheless, this doesn't make Draw the Line less listenable. In fact, the familiar sound is welcome because it gives one time to focus on Gray's intriguing lyrics. Some are rather poetic like on "Harder" which features the lines "Can't recall the moment when the doubt ripped your face/Or put my finger on quite when the fog took your place" while others are brilliantly vivid like "I'm the thoughts you're too ashamed to ever share/And I am the smell of it you're trying to wash out of your hair" on "Nemesis."
Great lyrics like those make Draw the Line hard to ignore and prove Gray is one damn good singer-songwriter no matter what some critics say. www.davidgray.com
Author: Todd Sikorski
[Rating: 4/5]