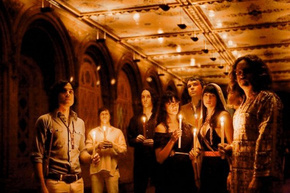 In celebration of their forthcoming air, land and sea adventures, the band is releasing their brand new video for the single, "15 to 20," directed by Moh Azima.  
PHB member Sean Marquand said about the making of the video, "This was interesting to work on because it's essentially 8 different videos coming together as one.   That means we shot everything separately and didn't really know what the other band members were up to until we saw a final cut.   Everybody had a good time taking the various modes of transportation, but if it can be avoided, it's best not to shoot a video in this city in the dead of summer, even a summer as unseasonably mild as this one."
Phenomenal Handclap Band "15 to 20" Official Video from friendly fire recordings on Vimeo.