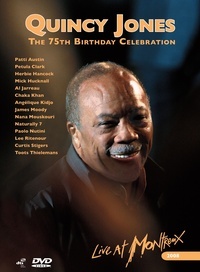 What best way to pay tribute to one of the biggest music moguls today than to give a five-hour concert on his 75th birthday? That's what Quincy Jones received last year at the Stravinski Auditorium in Montreux, Switzerland, home to the Montreux Jazz Festival.
 
In this more than two-hour long DVD, the Montreux stage was graced by the likes of Chaka Khan, Al Jarreau and Herbie Hancock, just to name a few, who all gave their versions of songs that were arranged, composed or produced by Jones himself.
 
Disc one of the DVD set gave an introduction by Claude Nobs, who founded the Montreux Jazz Festival with Geo Voumard and Rene Langel in 1967. Today, the festival is known as "one of the most prestigious music events in the world," and Jones has had a significant part of working with the festival and with Nobs.
 
With the Montreux In The House Band and the Swiss Army Big Band, the DVDs offer a touch of funk, jazz, blues, R&B and more. "The Good, The Bad and the Ugly," originally composed by Ennio Morricone in the late '60s, starts off disc one with the legendary Herbie Hancock on keyboards, and Patti Austin and Stevie Woods on vocals.  
 
Some of the artists themselves were impressed with who they were working with on stage, such as Patti Austin, who sang with Chaka Khan on "Miss Celie's Blues (Sister)." At the end of the song, Austin said, "I just sang with Chaka Khan! I just sang with Chaka Khan!"
 
"What's Going On", written originally by Renaldo Benson, Al Cleveland and Marvin Gaye, was featured with vocals by Ledisi and Rahsaan Patterson, as well as James Morrison on trumpet, Tobias Preisig on violin, Patrice Rushen on keyboards and Toots Thielemans on harmonica.
 
The star-studded event continues on disc two, with several highlights such as "Mama Aifambeni," sung by Angelique Kidjo, which was the original theme for the '70s mini-series "Roots." A contemporary version of Michael Jackson's "Billie Jean" was done by Naturally 7, the New York-based a cappella group that does a lot of beat-boxing along with their vocals, as well as "Wall of Sound," originally created by one of the group's members, Roger Thomas.      
 
A diverse mixture of songs throughout the decades, 0Quincy Jones' birthday marked not only a milestone in his life, but a milestone in music history.  
For more on Quincy Jones: The 75th Birthday Celebration Live at Montreux, visit www.eaglerockent.com.
 
Author: Erika Y. Gradecki
[Rating: 4.5/5]