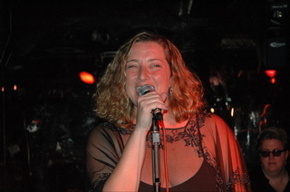 Dirty Blonde is one of those bands that many have not heard of but many will love once they've heard them. Sultry singer Cheryl Aruda fronts this hard-driving, non-stop rhythm machine. Playing at Palmer's Restaurant in Andover, Massachusetts last Saturday night, Dirty Blonde made a believer out of everybody who had not seen them before.
If this band didn't have to stop playing at midnight they would have probably kept going until breakfast. Aruda's own song, played near the end of the night, "You're Supposed To Be In Love With Me," moved like a roller coaster as the take no prisoners beat and Aruda's hip, raspy delivery hit the mark like a heat-seeking missile. Guitarist Bobby Enik took the song into the stratosphere with thick, fiery guitar slinging.
Opener "Into The Mystic" by Van Morrison was the perfect vehicle for Dirty Blonde to create a comfortable vibe for the listening area adjacent to the upscale restaurant's bar. Bass player Susan Goldberg laid down a low end that glided by like a summer breeze as she gently massaged the song forward.
Aruda writes her own arrangements of many classic rock and R&B standards, giving them irresistible blues beats and thickened grooves that you want to clap, dance, and sing along. "Some Kind Of Wonderful" was treated to a jazzy, funky alteration which Aruda drove forward with her muscular personality. Guitarist Bobby Enik slowly built the tension in "Angel From Montgomery" by grinding out a fanciful take on the melodic phrases while Aruda gracefully unfolded this tale with an easy going swagger. Yet, it was Enik's slide guitar work that raised this song beyond its status as a bar band cliche.
Just when I thought Aruda could not get any more clever with her arrangements, she lead her band into a blues chanteuse adaptation of "Train In Vain" by The Clash,   reaching deep inside the song's roots to reinvent it into a spunky blues.
Aruda and her band mates pulled out all the stops in a fresh version of Tom Jones's "It's Not Unusual" with burst of quick, short guitar spikes and Cream's "Sunshine Of Your Love" gave Enik room for a guitar workout with brisk, tasteful melodic runs and even a mildly acid take after he stepped on a guitar pedal.
But arrangements of classic rock and pop from the 1960s and 1970s are only one of Aruda's specialties. She belts out the blues standards with vigor and soul like few others, and delivers the slow ballads with tender forcefulness. Her voice had the perfect rasp for "Me And Bobby Magee" and her strong personality injected it with forceful oomph.
Aruda also brought Ruth Brown's "5-10-15 Hours" to new life with her aggressive, gutsy rasp and Enik's guitar whipped up a dancing melody.
Drummer Diane Gately beats a lot of sound out of a small drum set made up of small pieces. Maybe because the room was not huge that her small set worked so well. There were times when the rapid rolling thunder she made seemed to be coming from something larger.
The cozy and intimate space does not leave a lot of room for dancing, but most of the night there were ten patrons dancing intensely inside an area between the band and a row of tables. It was Dirty Blonde's rendition of Sam And Dave's "Something You Got" that really yanked the crowd up there. It was also Aruda's sass that made Nancy Sinatra's 1968 hit "These Boots Are Made For Walking" another crowd favorite. Amusingly, Dirty Blonde segued into "Wipeout" by The Surfaris," turning the dancers into one big 60s style dance party with moves reminiscent of matinee beach movies. Then they easily shifted back to "Boots."
Again, though, Aruda does her best work on blues standards. The Etta James tune "The Blues Is My Business" found her more natural and looser. Enik grinded out the frisky rhythm while the rhythm section jumped on this tune like nobody's business. The 1970s' Rufus   R&B hit "Tell Me Something Good," written by Stevie Wonder, showcased the band's ability to handle the odd breaks in this song and to throw some extra guitar layering in the spaces left open by the monster rhythm section.
Dirty Blonde's biggest moment was on "Shaky Ground" because Aruda was so funky and the rhythm section was slammin'. Without changing too much of the rhythm they went into Prince's hit "Kiss" with Enik laying out six-string mania with some priceless high notes. Believe it or not, Dirty Blonde even turned Led Zeppelin's "Whole Lotta Love" into a driving, funky blues song, another tune in which the band found the blues roots inside a number and then turned the song inside out.
 Most of the Palmer's crowd already knew Dirty Blonde from previous shows at this Andover restaurant. Yet, everyone else was newly converted and totally into Dirty Blonde and talking to band members after the show.
 It is always hard to determine why a band this talented and entertaining can be overlooked by the blues community. Is it a lack of marketing? Do people dismiss them as novelty when they read about the female rhythm section? Is it because singer Cheryl Aruda goes by her cumbersome full name Cheryl Ann Hagan-Aruda? Is Ms. Aruda eclipsed by her busy ex-husband trumpet player and his saxophone player brother with the same last names?
 Dirty Blonde certainly play out enough. I'd like to challenge my readers to look up Dirty Blonde's gig schedule and give them a chance, and then let me known what you think of Dirty Blonde. Cheryl Ann Hagan Aruda is on Facebook and the Dirty Blonde sites are www.myspace.com/dirtyblondegigs and www.dirtyblondegigs.com
By Bill Copeland
BillCopelandMusicPress
Photo By: Jim Stearns