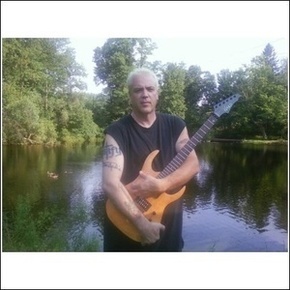 Rob Carlton is pleased to announce that he has signed a one year deal with Halo Guitars. Rob & Halo will work in conjunction with various aspects of Rob's music career. Halo will be involved with promotions, touring, and making sure Rob's guitars are in top shape when he hits the stage. Rob has already signed on to play next years NAMM show in Anaheim, CA playing a Halo guitar. Rob has also launched a NEW Myspace page for his fans at www.myspace.com/rcbfan. Rob has endorsements with GHS Strings, Morley Effects, Rocktron Effects, and Spectraflexcables as well.  
Rob Carlton said, "I am really excited to be working with Halo. They really are a great help to up and coming artists. They also generate sales for their artists through their websites. This is a win-win and I couldn't be happier."      
Halo Guitars is a company that was formed by musicians to build guitars for musicians, and sell them at a price that musicians can afford. We will always do everything in our power to keep this dream going.
Halo Custom Guitars, Inc.
C/O Artist Relations
21621 Stevens Creek Blvd.
Cupertino, CA 95014
www.haloguitars.com
 
Rob Carlton
Cell: 570-982-2133
hotguitar1@yahoo.com
www.myspace.com/robcarlton