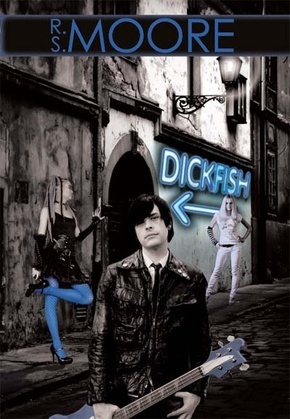 "Just let me hear some of that rock & roll music/Any old way you choose it/It's gotta be rock & roll music/If you wanna dance with me!" Rock & Roll Hall of Famer Chuck Berry reminds us all of this pulsating power every time he's blasted over the airwaves. Rock & roll isn't just music. It's the soundtrack of our lives. It is our lives.
Author R. S. Moore offers a prurient peek into this uptown, underground, wild side in his new rock & roll fable about love, lust, and loyalty in turn-of-the-century, Bush-whacked America. DICKFISH follows six groovy young professionals through the decadent Democratic and dour Republican scene of Washington, D.C., as they rock and romp their way around relationships, religion, politics and posh ports of call.
Bred in backwoods America (The South), with no formal schooling (William & Mary) but broad perspective (Jim Crow), R. S. Moore soon escaped to semi-civilization (The East), where for decades he dabbled in politics (without distinction) and dawdled in dives (to gild guitar). Finally, he fled to Europe (first Brussels, then Paris), where he loves the vision (wife Pamela) and lives his religion (cafés, claret and smoke–but not in that order).
[youtube iLRBPXR-lZs nolink]
DICKFISH is available for purchase at Amazon.com, BarnesandNoble.com, Borders.com, and iUniverse.com.