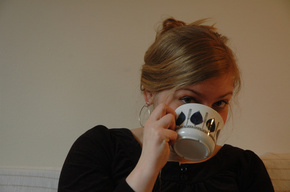 Following on the success and critical acclaim of Disco Romance, comes the highly anticipated sophomore release from Swedish italo-disco artist Sally Shapiro – My Guilty Pleasure, a blend of 80s-inspired italo disco and twee indie pop – melancholic yet hopeful, sweet yet danceable.
The album takes influences from genres like trance, cosmic disco, acid, ambient and jazz while retaining that sweet disco romance you know and love. My Guilty Pleasure contains 9 tracks, including the singles "Miracle" and "Love in July," and is available on CD and limited edition 180GRAM vinyl. (Only 300 were pressed, so snap one up while you still have the chance!)
NEW SONG, "DYING IN AFRICA," AVAILABLE FOR FREE DOWNLOAD:
Sally Shapiro "Love In July" from the album 'My Guilty Pleasure' from Paper Bag Records on Vimeo.