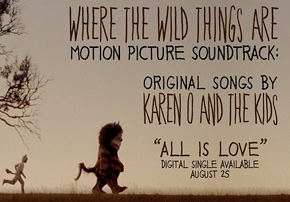 For Spike Jonze's film-adaption of children's book, Where The Wild Things Are, he got the one and only Karen O(and "The Kids) to do the soundtrack. You can listen to the first song now on Myspace!
Karen O and The Kids is the group behind the soundtrack for the movie's soundtrack, and backing her up are Bradford Cox of Deerhunter/Atlas Sound, her YYYs band-mates Nick Zinner and Brian Chase, Dean Fertita of Dead Weather/The Raconteurs, and many more.
While the single, "All Is Love" doesn't release digitally until tomorrow, you can hear it now in all it's cute, cheerfulness on Myspace!
Coming from a girl who has spit beer on stage and shoved microphones into her mouth, Karen O has done well on creating a song capturing innocence and childlike charm, and we'll hear how well she did on the rest of the soundtrack when it releases September 29.