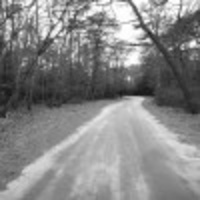 This 4-song EP is nice & subtle, easy-going music.   You hear a southern rock sound with elements of country and even some straight-to-the-core rootsy-type vibes.   The Kenny Young Project is made up of Kenny Young mainly on vocals with an array of other talented musicians that tend to: rhythm guitars, acoustic guitars, lead guitars, bass, percussions, drums, background vocals, organ, 12 string electric & rhythm guitars, 12 string acoustic guitar, synthesizer, FX and can't forget the finger snaps.   Young also adds acoustic guitar on track one, "We'll find love again", finger snaps on "Krazy" and backing vocals on the last number, "Carousel".   The all-around sound comes together nicely as Kenny Young & company make it happen.
Young is a veteran singer/songwriter based in Jersey.   He is responsible for all the song lyrics on this new record as he also helped out with the arrangements.   Having to put his dream of making music for a living on a hold for a bit in order to raise a family, he is now "back in the saddle".   Young's interest in music started early on with his father being a motivational/inspirational figure in his life.   Kenny's dad was an accomplished guitar player in his own right and so then Kenny Young would follow in his musical footsteps.   Starting on drums with a group of friends at the age of 12, Kenny then went on to eventually learn & play bass, rhythm and lead guitar.   The rest is history as Kenny Young is now back in the studio and playing venues.   His dream is alive and well again as Young is having fun making music for people to enjoy.   An excellent quote from Kenny himself is as follows: "There's nothing like making music that inspires hard working people to sit back, sing along and have a good time."   Perfectly said and completely matches up with the feel of the entire EP.
The CD starts up with an uplifting song called "We'll find love again", which Young wrote for a broken-hearted friend.   Next up is "Krazy", which ironically enough the spelling came after Young downed a few frosty brews while sitting on the front porch with his wife.   "Krazy" has a real fun side to it with Young and crew just having a good ol' time.   I also really liked the guitars on this track as they offered a plentiful amount of richness/texture.   "Waiting" is a song Young wrote about he and his wife and everything they have experienced together over the past 21 years.   The song fittingly takes on a soft & sincere approach thanks to Kenny's meaningful vocals.   The last number, "Carousel", has an incredibly pleasing harmony with a real down-home-cookin' country-rock sensation.
Overall, the EP adds a nice touch by making it simple yet meaningful for the listeners.   Young and his band have connected with the average person by making music that relates to your ordinary, average Joe.   With a full length debut album on the way, sky is the limit right now for The Kenny Young Project.  
By Jimmy Rae
[Rating: 3.5/5]