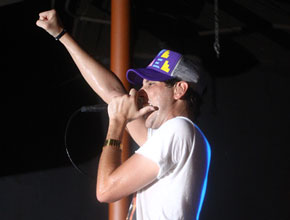 The indie dance-pop phenoms Cobra Starship descended on West Palm Beach last night amongst rabid teenage fandom. This was their hometown show for Ryland Blackinton and Alex Suarez, who grew up in Boca Raton.

Cobra is currently on their warm up "Hot Mess Across The U.S." tour before they jump back on the bus opening for Boys Like Girls. The hormones raged as a swarm of teenage girls funneled into Respectable Street Cafe in West Palm Beach, a venue not so used to swarm that came upon on it, nor usually hosting band's on the level that Cobra Starship is.
I hadn't seen Respects this well attended for a live show for a good while. Of course tonight will be packed for the 22nd year anniversary of the club, the place with be brimming with patrons vying for alcohol. However, last night you needn't fight to get to the bar; there was no line at all as 13-year-old girls lined the walls and filled the dance floor.
Cobra have garnered a huge fan base with their light dance pop fueled by synthesizers and sarcasm. Their catchy and infectious songs invoke feverish dancing and sing alongs — last night was no exception. Cobra started their set with "Pete Wentz Is The Only Reason We're Famous" — a song that highlights their ironic sense of humor. Cobra have always set themselves apart from the scene by not taking themselves too seriously and even laughing at themselves. This irreverence makes them likable and may be the reason their fans adore them — they are silly and fun which resonates with their fan base.
With fists pumping in the air on "The Church of Hot Addiction" front man Gabe Saporta came with the energetic 'Hey, Hey!' choruses that were echoed by the excited crowd. Saporta took pleasure in engaging the audience in the tightly packed club. He spoke frequently between songs and complimented the crowd that they were the best ever. He mentioned that he liked playing small venues because it afforded them the intimacy you can't get in larger arenas. But he was apologetic that 100 people that purchased tickets were denied admittance.
Guitarist Ryland Blackinton addressed the crowd saying how he grew up not far from West Palm Beach in Boca Raton. They segued from talking about haters by singing "Kiss My Sass" where they delivered the swaggering beats and Saporta's expressive crooning. There was a sing along 'oh oho oh oh' from the predominantly female crowd. They launched into 'Can't handle it, Damn that girl she's scandalous' on the song "Damn You Look Good and I'm Drunk". A dad and his daughter were dancing and singing together in front of me — which struck me as goofy, but an incredibly great way to bond.
On "My Moves Are White" Saporta approached the crowd on the edge of the stage and it would elicit high-pitched squeals from the young girls. Next was "Smile For The Paparazzi" with its heavy rock chorus and Latin rhythms. A middle-aged bleach blond woman demanding they play the snakes on the plane song with the same colorful flourish of language of Samuel L. Jackson — I think that was someone's mom and I was embarrassed for that someone.
Saporta said the next song was about giving a hug and not get getting one back as he broke into "The World Has Its Shine" a sentimental piece about finding love. They then blasted into "The City Is At War" with heavy synthesizers. The bouncing bodies and hands in the air crowd were fired up by this anthem. The air was thick with Teen Spirit and Clearasil.
They had everyone do the Cobra hand sign before getting into the "Snake On a Plane" which was going to be their last song. They gave their compliments again to the crowd and shouted out to say "Hello" to their friends from hometown heroes, Hey Monday. Mike Gentile, guitarist for Hey Monday, was hanging out side stage watching the band amongst the rest of the crowd.
The crowd needed more so they broke in to the one more song chant and then the place was filled with unified voices singing 'I came to dance tonight". Saporta comes back on stage and chides 'Is it hot in here or it just uuuusss.' They swung into "Pleasure Ryland" with the club banging RnB style beats and Saporta's falsetto vocals. By the end of it the entire crowd was exultant, sweaty and satisfied.
Words: Shaun Flagg
Photo: Norrel Blair
PHOTOS FROM THE SHOW IN THE GALLERY
Set List
Pete Wentz Is The Only Reason We're Famous
Send My Love To The Dance Floor
Church of Hot Addiction
Kiss My Sass
Damn You Look Good and I'm Drunk (Scandalous)
Ballad Of Big Poppa and Diamond Girl
My Moves are White (White Hot That Is)
Hollaback Boy
Smile For The Paparazzi
The World Has Its Shine
The City Is At War
Snakes on a Plane (Bring It)
-ENCORE-
Pleasure Ryland
Good Girls Go Bad
Guilty Pleasure
Related story: Indie pop irony