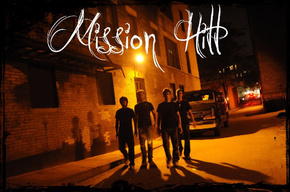 Mission Hill has sent Skope an MP3 of their single, "Forever Anyway" which is tied into Boston lyrically. This band is made up of all Boston residents and Mission Hill is an infamous neighborhood in the city.  
Mission Hill is an alternative rock band from Boston that mixes provoking songwriting and catchy hooks with moody vocals and strong musicianship. Mission Hill's new single "Save Me from Me" was just added to WXRV as the regional buzz has now grown into a national radio campaign. "Save Me from Me" is available on iTunes, and will be featured on the band's debut record due November 3.
Mission Hill "Forever Anyway" MP3:
In addition to earning the number one spot on Alternative Addiction's "Top Ten Unsigned Bands in the Country" list, lead singer Adam Jensen received an LA Music Award for "Indie Male Vocalist of the Year" and was voted Top Male vocalist by Singer Universe Magazine.
Mission Hill is made up of all Boston residents (albeit two international transplants): guitar player Alex Knutsen (Berklee grad), bassist Zach Jagentenfl and drummer Takuma Anzai.
The band was also just provided sponsorship by Dickie's, the international clothing company.