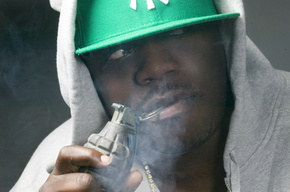 In the summer of 1995, one song was inescapable. Blasting from cars, parks and parties, Blahzay Blahzay's "Danger" became New York hip-hop's most memorable anthem, reaching #1 on the Billboard Rap Single Charts.
Composed by the renown Brooklyn-based MC/DJ team Blahzay Blahzay — Blahz the MC and PF Cuttin' on production — Danger had fans worldwide chanting the thunderous Jeru-sampled chorus, "When the East is in the House, Oh My God!"
On the first Murder/Blahz first collaboration, producer Metaphysics works wonders with Dances with White Girl's iconic "Everybody's Got To Make A Living" sample for an ode to recessionary survival. It already sounds like another anthem.
Blahzay – "MAKE A LIVIN'" ft Uncle Murda and Donnell Rawlings:
[youtube JXhfxKSRepE nolink]