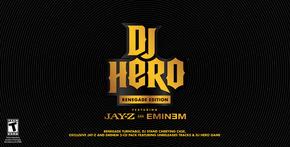 Start the party with the DJ Heroâ"¢ Renegade Edition Featuring JAY-Z and EMINEM.   In addition to the DJ Hero game, the Renegade Edition includes a premium Renegade turntable controller, hardshell turntable carrying case that converts to a performance-ready DJ stand, and an exclusive JAY-Z and EMINEM 2-CD pack featuring unreleased tracks.
The makers of Guitar Hero ® introduce a new way to experience your favorite music. With DJ Hero you will be the life of the party as you scratch and mix more than over 100 songs into over 90 unique mixes.  
Learn basic and advanced DJ Hero techniques, then spin your way through different set lists in beginner, easy, medium, hard, and expert modes. Grab your friends and start your own DJ Hero party.