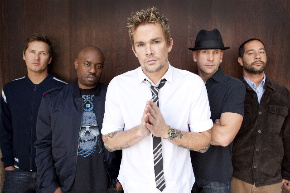 On Wednesday July 8th, 2009 the phone rang promptly at 6:10 pm EST. On the other end was the lead vocalist & frontman of Sugar Ray, Mark McGrath.
Sugar Ray is back after a 5 year hiatus with their new album, 'Music For Cougars.' The new album will be out on July 21st and the guys set out on a 3 month tour a few days later.
Join us as we chat with Mark about the hiatus, creating hit records, the struggle before the stardom, and so much more.
SKOPE TV PHONER WITH MARK MCGRATH OF SUGAR RAY PT I
[youtube 5PpVlsc6FVc nolink]
SKOPE TV PHONER WITH MARK MCGRATH OF SUGAR RAY PT II
[youtube UXc47F13O_Q nolink]